Quantum News Briefs August 8: SQE quantum-secure blockchain platform joins Berkshire Innovation Center; U of Chicago scientists observe first evidence of 'quantum superchemistry' inlaboratory; Quantum computers could power future computations in oil & gas industry + MORE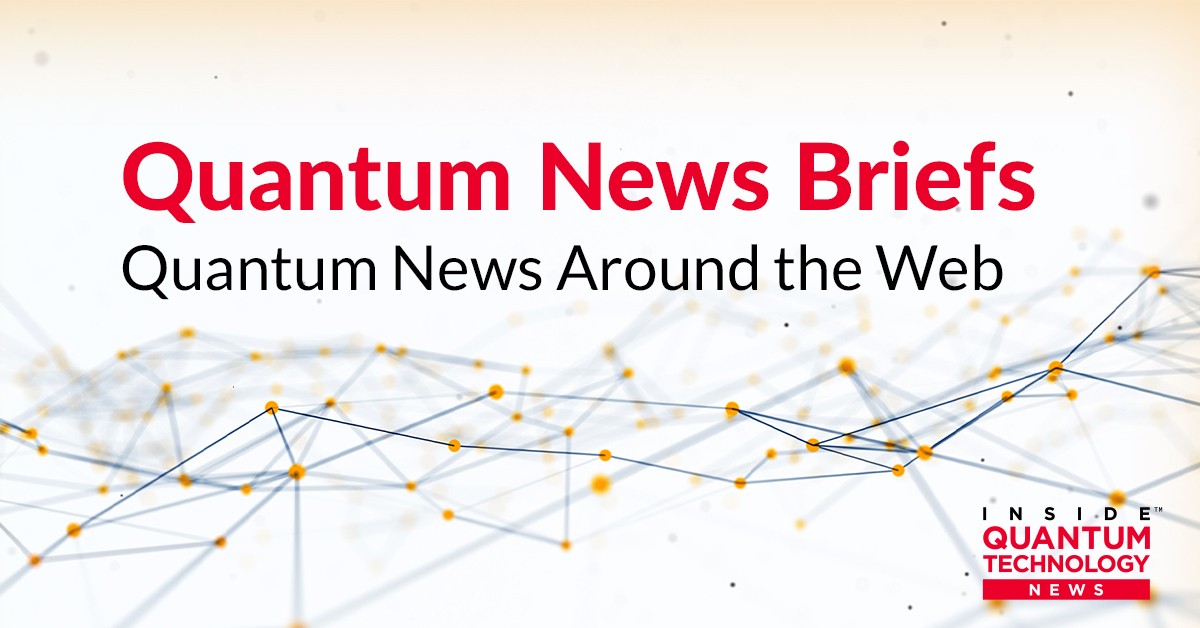 Quantum News Briefs August 8:
SQE quantum-secure blockchain platform joins Berkshire Innovation Center
SQE, a quantum-secure decentralized blockchain platform, announced on August 7 that it has been accepted to the Berkshire Innovation Center's Stage 2 Accelerator program. Quantum News Briefs summarizes the announcement.
As part of the program, SQE will have access to labs, advanced equipment, a digital media studio and internal specialists to assist as it moves forward with its development. SQE will also have a spot in the 2nd cohort of the BIC Manufacturing Academy, which was developed in partnership with MIT, General Dynamics, Mass Tech Collaborative and the US Department of Commerce.
"I'm energized by the timing of this for SQE and for BIC equally, as it comes at a time when the Commonwealth of Massachusetts is really interested in exploring and understanding how quantum computing is going to impact organizations within its ecosystem," said Dr. Dennis Rebelo, Chief Learning Officer at the Berkshire Innovation Center. "When I think about the local impact and the statewide impact, it's clear the timing is right…SQE represents innovation by rapidly exploring and then conjuring new methodologies for problem-solving security risks in a hypercomplex world."
SQE is a quantum-secure digital platform powered by a patent-pending Simulated Quantum Entanglement technology, which links SQE's nodes together and allows our mining components to occur without transmitting keys over the internet. SQE's entangled hardware generates a different key with every transmission. Encryption keys are never transmitted, making transactions on SQE unhackable.  Click here to read original announcement.
U of Chicago scientists observe first evidence of 'quantum superchemistry'  in the laboratory
A team from the University of Chicago has announced the first evidence for "quantum superchemistry"—a phenomenon where particles in the same quantum state undergo collective accelerated reactions. Quantum News Briefs summaries the August 7 Phys.org article by Louise Lerner.  The effect had been predicted, but never observed in the laboratory.
The findings open the door to a new field. Scientists are intensely interested in what are known as "quantum-enhanced" chemical reactions, which could have applications in quantum chemistry, quantum computing, and other technologies, as well as in better understanding the laws of the universe.
"What we saw lined up with the theoretical predictions," said Cheng Chin, a professor of physics and member of the James Franck Institute and Enrico Fermi Institute, whose lab conducted the research. "This has been a scientific goal for 20 years, so it's a very exciting era."
Chin's lab specializes in working with particles held at very, very low temperatures. Near absolute zero, particles can link up so that they are all in the same quantum state—where they can display unusual abilities and behaviors.
It had been theorized that a group of atoms and molecules in the same quantum state would behave differently during chemical reactions, but the difficulty in orchestrating the experiment meant it had never been observed.
In ordinary chemistry, the individual atoms would collide, and there's a probability for each collision to form a molecule. However, quantum mechanics predicts that atoms in a quantum state perform actions collectively instead.
"You are no longer treating a chemical reaction as a collision between independent particles, but as a collective process," explained Chin. "All of them are reacting together, as a whole."
The scientists hope the breakthrough is the start of a new era. Though this experiment was performed with simple, two-atom molecules, they plan to work their way up to handling larger and more complex molecules. Some in the field have envisioned using molecules as qubits in quantum computers, or in quantum information processing, for example. Click here to read the original article in-entirety.
Quantum computers could power future computations in oil & gas industry
Quantum computers have the potential to power future computations in the oil and gas industry, according to a August 7 article in Energy.portal.eu by Terance West summarized below by Quantum News Briefs.
While traditional computers have been used for mathematical challenges in the sector for decades, they can fall short when calculations involve multiple variables. Quantum computers, on the other hand, are capable of performing complex computations due to their ability to leverage the properties of quantum physics.
According to West, a recent thematic report by GlobalData on quantum computing in oil and gas highlights numerous potential use cases for the industry. While quantum computer technology is still in the research and development phase, several areas of application have been identified.
Quantum simulations are being used to identify suitable materials for carbon capture technologies by companies such as TotalEnergies, ExxonMobil, and Shell.
Collaborations between energy companies and quantum computing experts have been announced. Eni and PASQAL are developing quantum solutions for the energy sector, while Saudi Aramco and IBM aim to establish an innovation hub to leverage emerging technologies such as quantum computing. Chevron Technology Ventures has invested in QuintessenceLabs, a pioneer in quantum cybersecurity solutions. Click here to read article in-entirety.
Vilnius University, Poznań Supercomputing  & IBM Quantum Network providing infrastructure for quantum computing technologies & development in Central & Eastern Europe

Vilnius University (VU) signed an agreement with the Poznań Supercomputing and Networking Centre (PSNC) in May 2023 and is the first institution in Central Europe to join the IBM Quantum Network. This cooperation provides the infrastructure for the academic community to use quantum technologies and develop new fields of science and study in the area of quantum computing at VU and nationally. Quantum News Briefs summarizes a recent article by Professors Povilas Treigys and Remigijus Paulavičius of the Faculty of Mathematics and Informatics of VU.
"Cooperation with PSNC has not happened by accident", Prof. Paulavičius explains. "This centre is the leader in the field of quantum technologies in the Central and Eastern European region.
According to the scientist, by taking on experience from PSNC, VU will become capable of even more targeted investment in quantum technologies. PSNC, which is part of the Institute of Bioorganic Chemistry of the Polish Academy of Sciences, was the first institution in Central Europe to join the IBM Quantum Network in February 2022. The centre is also scheduled to have a physical quantum computer in 2025
"Thanks to the network, we currently have access to the quantum computing performed in the U.S. However, access alone is not enough. In order to be able to use it, we need to employ the HPC (High Performance Computing) infrastructure available at VU. In Lithuania, we are the leaders in high-performance computing; thus, it is only natural that PSNC wanted to cooperate specifically with VU", explains Prof. Treigys.
As early as next semester, VU students will be able to choose a new subject titled 'Introduction to Quantum Computing'. From the next academic year, there are plans to offer more study programmes dedicated to quantum technologies.
For the community to better assimilate the new technologies, not only are educational materials being translated, but research related to quantum computing is also being promoted through competitions in cooperation with Adam Mickiewicz University in Poznań. In May, the VU team participated in a quantum hackathon. Moreover, VU was approached to be the organising institution of the competition in Lithuania.
According to Professors Povilas Treigys and Remigijus Paulavičius the cooperation opens up new opportunities for everyone willing to be at the forefront of technology to conduct research and study quantum computing. Contact Dr.  Gintarė Bidlauskienė; Science Communication Project Manager at Vilnius University (VU) for complete details.
Sandra K. Helsel, Ph.D. has been researching and reporting on frontier technologies since 1990.  She has her Ph.D. from the University of Arizona.