Quantum News Briefs April 26: Strangeworks announces general availability of advanced compute platform; Zapata Computing and DTU explore how quantum can help large-scale pharmaceutical manufacturing; Terra Quantum develops hybrid quantum computing prototype for Evonik + MORE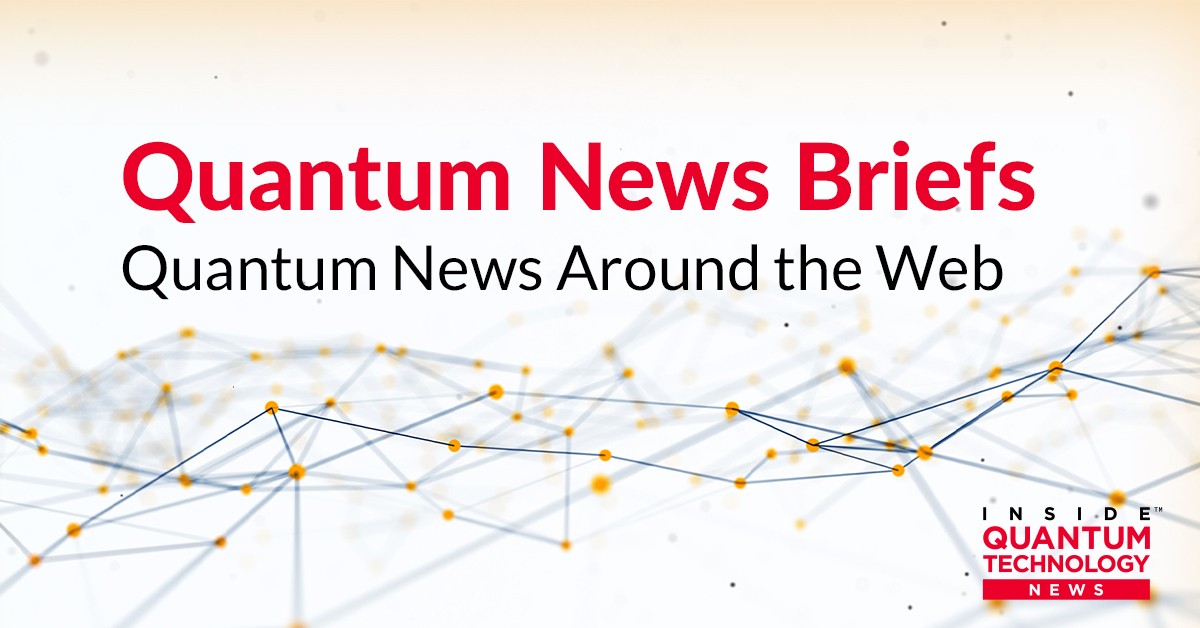 Quantum News Briefs April 26: Strangeworks announces general availability of advanced compute platform; Zapata Computing and DTU explore how quantum can help large-scale pharmaceutical manufacturing; Terra Quantum develops hybrid quantum computing prototype for Evonik + MORE.
Strangeworks announces general availability of advanced compute platform
Strangeworks showcased its new advanced compute platform and announced the general availability of several new products in its growing marketplace of applications.
The new platform was designed in close collaboration with the company's growing enterprise customer base. This latest release extends beyond quantum computing, adding new classical and quantum-inspired resources and solutions. The company also intends to introduce new tools to the platform that leverage artificial intelligence technology, with beta access coming soon.
The current platform includes improvements for every type of user:
• Developers gain greater flexibility via an updated SDK configurable in any environment, and capable of application integration (with appropriate key).
• Subject Matter Experts (SME) now have access to a marketplace of pre-packaged applications for everything from optimization and kernel alignment to variational quantum eigensolvers and neural networks.
• Managers and executives benefit from improved business and reporting tools for managing resource allocation, access levels, and billing.
With this release, Strangeworks has delivered the tools that empower application developers, integration partners, and enterprise customers to build, deploy, manage, and commercialize their applications and services. Examples of third parties already adding their original applications to the Strangeworks marketplace include:
• Rigetti has already added a quantum kernel method and will add a quantum convolutional neural network in the near future, both currently available only on Strangeworks.
• Multiverse Computing will be adding their portfolio optimization application designed for use by non-quantum experts.
• BosonQ Psi will be offering their airline route optimization application.
In addition to these partner applications, Strangeworks also announced three original applications for executing problems using optimization methods, quantum approximate optimization algorithm (QAOA), and variational quantum eigensolver (VQE). These applications allow users to execute common jobs across multiple hardware backends.
The platform also features an updated Backstage Pass Program, through which Strangeworks provides selected applicants with early access to pre-release features, tools and special stipends. The latest offering announced at the conference includes access to Quandela's quantum computers on the cloud.  Click here for complete announcement in Strangeworks newsroom.
Zapata Computing and DTU explore how quantum can help large-scale pharmaceutical manufacturing
Zapata Computing, a leading developer of Quantum AI software for enterprises, has announced that it has signed an agreement with the prestigious Technical University of Denmark (DTU) to research how quantum can create near-term value for pharmaceutical manufacturers.
The initiative is slated to kick-off later in 2023 and will explore real-world commercial applications and use cases in life sciences that can help set the foundation for solving larger pharmaceutical manufacturing challenges using quantum technology.
"The Danish quantum computing ecosystem continues to gain momentum," said Anne Hougaard Jensen, Director at Invest in Denmark. "By connecting some of the best and brightest minds across the public, private and academic sectors – we're showcasing the growing commitment to pushing innovation and technological expertise on a domestic and global scale."
DTU's department of chemical and biochemical engineering will spearhead the collaboration, tapping a PHD student to conduct use case research and pilot application development in collaboration with Zapata Computing.
"This collaboration is a part of DTU's broader KT Consortium, an industry-academia collaboration including enterprises like AVEVA, Mitsubishi Chemical, Neste, Nouryon, Syngenta and more," said Seyed Soheil Mansouri, Associate Professor, Department of Chemical and Biochemical Engineering at DTU. "We will leverage Zapata's Orquestra platform and expertise, arming ourselves with the technology and the know-how to conduct research, glean new insights and identify opportunities for improvement in pharmaceutical manufacturing."
The research team will use Zapata's Orquestra platform, including Zapata proprietary methods and open-source libraries, to develop hybrid quantum-classical computing techniques to develop algorithms to solve problems with applications in biotechnology, (bio)pharma, renewable materials/chemicals, among others. The methods will be validated through experimentation to produce a novel, state-of-the-art, cost-effective and accurate solution. In this regard, the research will engage with stakeholders from Danish and Nordic biotech and biopharma sectors to identify strategic near-term use cases and demonstrate proof of concept of quantum technologies as key applications in these areas using Zapata's proprietary technology. The expected outcome of the project is to identify potential use cases that are validated and benchmarked at pilot-scale for bio-manufacturing processes at DTU Chemical Engineering. Read complete news announcement in Zapata's newsroom.
Terra Quantum develops hybrid quantum computing prototype for Evonik
Terra Quantum has provided support to Evonik in exploring how one of the world leaders in speciality chemicals could take advantage of quantum technologies to unlock operational benefits. As quantum technologies continue to develop and disrupt industries, organizations that adopt these technologies early will have the competitive edge both now and in the future.
The joint project focused on the simulation and design optimization of a T-shaped mixer, as a simplified stand-in for more complex manufacturing unit operations. These types of parts are commonly used in the chemicals manufacturing process, however their specific shape parameters need to be finely tuned and adjusted depending on the reaction they will be used for.
The current process of designing the optimal mixer involves a lot of trial and error together with real and virtual prototyping. This results in long development times & high development costs. Terra Quantum has developed a software prototype for Evonik that exceeds the current performance for the simplified case of a T-mixer shape.
"This simulation and optimization work is another significant development in the application of quantum computing to the chemical industry. The results already illustrate the enormous potential of quantum technology that we can expect to unfold in the decade ahead as its power to redefine performance will change all aspects of this industry," said Markus Pflitsch, CEO and Chairman at Terra Quantum, summarizing the project with Evonik.  Read complete announcement here.
SK Telecom finds a way to integrate globe's various quantum cryptography communication networks
South Korea's largest mobile network operator SK Telecom recently announced it has found a way to integrate the globe's various quantum cryptography communication networks according to UPI News' Kim Yoon-kyoung & Kim Tae-gyu. Quantum News Briefs summarizes.
The Seoul-based wireless carrier said the discovery could lead to the linking of quantum cryptography technologies over different mobile phone networks. This could reduce the risk of hacking.
Quantum cryptography application to the telecom industry has been limited due to problems in connecting and operating communication networks across various systems of different operators and nations, SK Telecom said.
The company's pan-network solution, whose veracity and viability has been affirmed by Korea's state-backed National Information Society Agency, offers a way to make the technology available around the world.
The next step, the company said, will be the standardization of protocols, which it intends to do by sharing its work with telecom companies worldwide. Click here to read original article in-entirety.
Sandra K. Helsel, Ph.D. has been researching and reporting on frontier technologies since 1990.  She has her Ph.D. from the University of Arizona.