Quantum News Briefs May 15: IBM unveils end-to-end, quantum-safe tools to secure business, government data at annual Think conference; Yale & UConn Receive $1 million grant from NSF to plan a "quantum corridor" for new tech, jobs in CT; South Korea's Norma develops post-quantum cryptography technology called Q Care Connect Series + MORE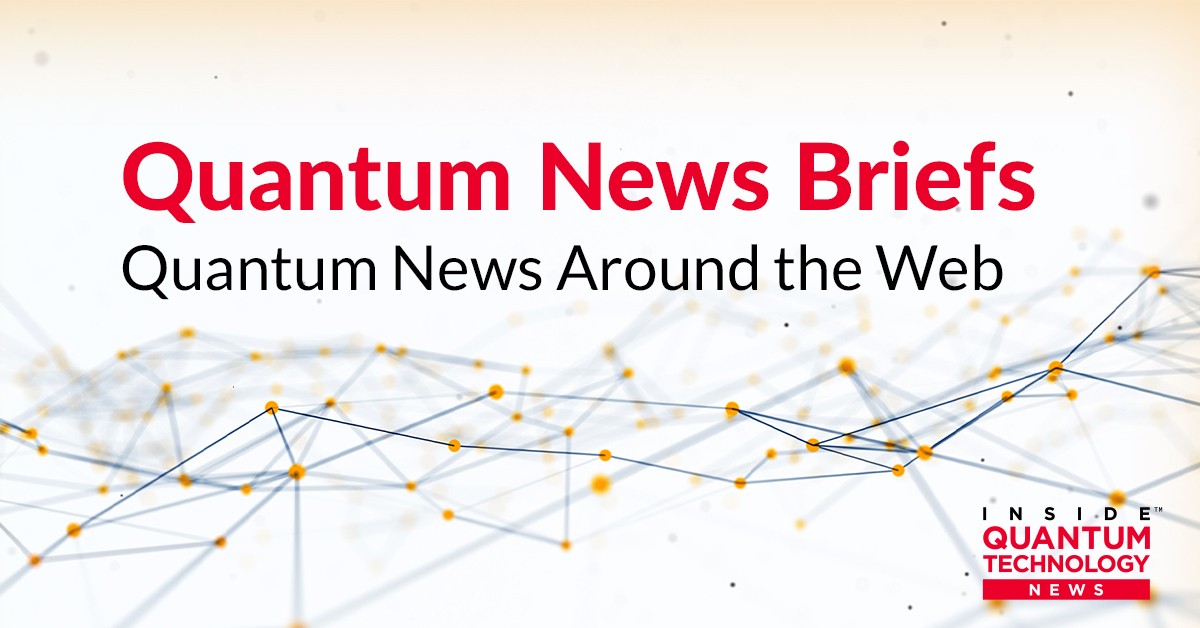 Quantum News Briefs May 16: IBM unveils end-to-end, quantum-safe tools to secure business, government data at annual Think conference; Yale & UConn Receive $1 million grant from NSF to plan a "quantum corridor" for new tech, jobs in CT; South Korea's Norma develops post-quantum cryptography technology called Q Care Connect Series + MORE
IBM unveils end-to-end, quantum-safe tools to secure business, government data at annual Think conference
IBM debuted a new set of tools and capabilities designed as an end-to-end, quantum-safe solution to secure organizations and governmental agencies as they head toward the post-quantum computing era during its annual Think conference May 9-11 in Orlando, Florida. Quantum News Briefs summarizes the May 10 CSO coverage by Michael Hill.
IBM's new set of capabilities is designed to help clients prepare for the post-quantum era in three key ways, the firm said in a press release:
IBM Quantum Safe Explorer enables organizations to scan source and object code to locate cryptographic assets, dependencies, vulnerabilities, and build a cryptography bill of materials (CBOM) that allows teams to view and aggregate potential risks into one central location.
IBM Quantum Safe Advisor allows the creation of a dynamic or operational view of cryptographic inventory to guide remediation, analyzing cryptographic posture and compliance to prioritize risks.
IBM Quantum Safe Remediator enables organizations to deploy and test best practice-based quantum-safe remediation patterns to understand the potential impacts on systems and assets as they prepare to deploy quantum-safe solutions.
The IBM Quantum Safe Roadmap is IBM's first blueprint that charts the technology milestones toward advanced quantum-safe technology, engineered to help organizations address anticipated cryptographic standards and requirements, and protect systems against emerging vulnerabilities, the firm stated. IBM said this is comprised of three key actions:
Identify cryptography usage, analyzing dependencies, and generating a CBOM.
Analyze the cryptography posture of vulnerabilities and prioritize remediation based on risks.
Remediate and mitigate with crypto-agility (the ability to switch quickly between encryption mechanisms such as algorithms and cryptographic primitives while minimizing the impact on other systems) and built-in automation.  Click here to read CSO's complete and lengthy coverage of the IBM event.
Yale & UConn Receive $1 million grant from NSF to plan a "quantum corridor" for new tech, jobs in CT
Yale and the University of Connecticut will use a $1 million planning grant from the U.S. National Science Foundation (NSF) to formally propose Connecticut as a regional hub for quantum-related research, technologies, and jobs. Quantum News Briefs summarizes the May 11 announcement.
The grant, announced May 11, is part of the NSF Engines program, a national effort to turn cutting-edge research into new technologies that create jobs and promote economic growth. Congress authorized the program last year in the CHIPS and Science Act. Yale and UConn will use the grant to develop plans for nurturing new quantum-related companies, identify ways quantum research can help existing companies, and train a new workforce for quantum manufacturing jobs.
The planning project could lead to a potential $160 million award from the federal government — money that would be used to implement the proposed ideas into a Quantum-CT Regional Innovation Engine.
"These NSF Engines Development Awards lay the foundation for emerging hubs of innovation and potential future NSF Engines," said NSF Director Sethuraman Panchanathan. "These awardees are part of the fabric of NSF's vision to create opportunities everywhere and enable innovation anywhere. They will build robust regional partnerships rooted in scientific and technological innovation in every part of the nation."
The proposed Quantum-CT Regional Innovation Engine brings together a broad coalition of public and private partners, in addition to Yale and UConn: the Connecticut governor's office and several state agencies; municipal leaders from New Haven, Hartford, Waterbury, and Stamford; the Connecticut Business and Industry Association; companies, including Raytheon Technologies, Boehringer Ingelheim, and Quantum Circuits Inc. (a New Haven start-up founded by Yale physicists); the Connecticut Workforce Council; and business development and leadership groups including Advance CT, CT Next, and the Connecticut Small Business Development Center. Click here to read Yale announcement in-entirety.
South Korea's Norma develops post-quantum cryptography technology called Q Care Connect Series
Norma, a quantum-safe solution company based in South Korea, developed post-quantum cryptography (PQC) technology called Q Care Connect Series to ensure that digital security will be able to meet the evolving security needs of organizations.  Quantum News Briefs summarizes May 11 Back End News coverage.
Norma's Q Care Connect series is designed to seamlessly integrate with existing network infrastructures, making it compatible with various IoT (Internet of Things) devices in smart homes and work environments. The post-quantum cryptography (PQC) technology offered by Q Care Connect ensures the future-proof protection of these devices. HDC Labs, a smart building solution company in South Korea, is already utilizing this technology suite.
Founded in 2011 by Jung Hyun-Chul, who has a Ph.D. in Computer Engineering from Korea University, Norma has secured $15 million in funding to date. The company operates its primary research facility in Seoul while expanding its global presence with five branches located in South Korea, the United States, Europe, Hong Kong, and China. Click here to read the original article in-entirety.
Symmetric graphene quantum dots for future qubits

Quantum dots in semiconductors such as silicon or gallium arsenide have long been considered hot candidates for hosting quantum bits in future quantum processors. Scientists at Forschungszentrum Jülich and RWTH Aachen University have now shown that bilayer graphene has even more to offer here than other materials. The double quantum dots they have created are characterized by a nearly perfect electron-hole-symmetry that allows a robust read-out mechanism — one of the necessary criteria for quantum computing. Quantum News Briefs summarizes a May 8 article in Science Daily.
The development of robust semiconductor spin qubits could help the realization of large-scale quantum computers in the future. However, current quantum dot based qubit systems are still in their infancy. In 2022, researchers at QuTech in the Netherlands were able to create 6 silicon-based spin qubits for the first time. With graphene, there is still a long way to go. The material, which was first isolated in 2004, is highly attractive to many scientists. But the realization of the first quantum bit has yet to come.
"Bilayer graphene is a unique semiconductor," explains Prof. Christoph Stampfer of Forschungszentrum Jülich and RWTH Aachen University. "It shares several properties with single-layer graphene and also has some other special features. This makes it very interesting for quantum technologies."
Christoph Stampfer says. He and his colleagues have created a so-called double quantum dot: two opposing quantum dots, each housing an electron and a hole whose spin properties mirror each other almost perfectly.
"This symmetry has two remarkable consequences: it is almost perfectly preserved even when electrons and holes are spatially separated in different quantum dots," Stampfer said. This mechanism can be used to couple qubits to other qubits over a longer distance. And what's more, "the symmetry results in a very robust blockade mechanism which could be used to read out the spin state of the dot with high fidelity." Click here to read Science Daily article in-entirety.
Sandra K. Helsel, Ph.D. has been researching and reporting on frontier technologies since 1990.  She has her Ph.D. from the University of Arizona.