Quantum News Briefs May 4: SandboxAQ and the City University of New York partner to create quantum education opportunities and launch new photonics lab; What government can do to enable the quantum industry to flourish; Ames scientists advance rare earth materials by using quantum computers + MORE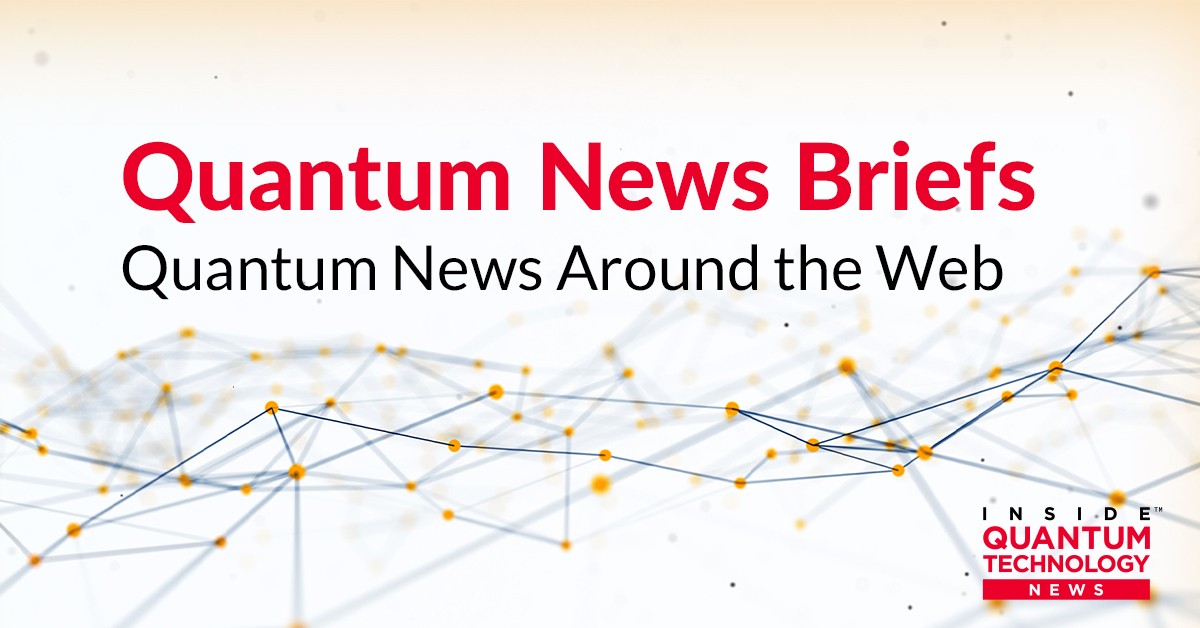 Quantum News Briefs May 4: SandboxAQ and the City University of New York partner to create quantum education opportunities and launch new photonics lab; What government can do to enable the quantum industry to flourish; Ames scientists advance rare earth materials by using quantum computers + MORE

SandboxAQ and the City University of New York partner to create quantum education opportunities and launch new photonics lab
SandboxAQ, a leader delivering the combined impact of AI and Quantum technology (AQ), has partnered with the City University of New York (CUNY) to expand quantum education opportunities and create a sustainable ecosystem for the future quantum workforce. These initiatives exemplify the types of industry-academia partnerships needed to meet the soaring demand for AI and quantum talent.
As part of the partnership, a SandboxAQ sponsorship of $200,000 will help fund a new, first-of-its-kind, undergraduate photonics lab where students will run Quantum Information Science & Technology (QIST) experiments, which the company will co-design with CUNY faculty. The lab will be located on The City College of New York campus and focus on the foundational physics behind new quantum technologies, including: superposition, entanglement, manipulation, measurement, and long-range quantum communication. The experiments will enable students to learn theoretical fundamentals while gaining practical experience in real-world quantum engineering.
"Quantum technologies promise to revolutionize nearly every industry, but in order to achieve this reality and fuel its growth, the quantum industry must cultivate a steady pipeline of highly-educated and trained scientists, engineers, and mathematicians through innovative partnerships with academic institutions like CUNY," said Marianna Bonanome, Head of Education Outreach at SandboxAQ. "We believe the incredibly diverse opportunities in quantum must be matched by an even greater diversity within its community. That's why SandboxAQ is incredibly proud to be partnering with CUNY to support programs that serve underrepresented groups in STEM. CUNY's venerable Division of Science, Grove School of Engineering, and its Initiative for Theoretical Sciences are natural collaborators for our quantum education efforts."
"The City University of New York is both ecstatic and humbled by the generosity of SandboxAQ, which has a strong reputation of partnering with academic institutions to accelerate quantum education," said Dr. Seth Cottrell, Adjunct Assistant Professor at City College, CUNY. "Our new photonics lab and other related programs will greatly enhance both the academic and career opportunities for our students, giving them the chance to experiment with cutting-edge science and open new doors to a successful future."
In addition, SandboxAQ will organize and sponsor an ongoing series of in-person quantum workshops at the CUNY Graduate Center, starting with a two-day program on quantum networks, the first of which will begin May 4. The workshops will present CUNY graduate students, as well as advanced undergraduates in physics, mathematics, and computer science, with a unique opportunity to learn more about quantum-related topics from leading industry and academic experts. Speakers at the May workshop will include executives from SandboxAQ, Qunnect, AWS, and the Perimeter Institute, in addition to faculty from the University of Illinois, University of Maryland, University of Michigan, and University of Ottawa.  Click here to read complete announcement.

What can government do to enable the quantum industry to flourish?
To achieve the maximum benefit for their citizens and keep the development of quantum free and fair, governments need to help reduce risks and allow the quantum industry to flourish. A Wall Street Journal's May 3 CIO submission from Deloitte proposed guidelines on the role of government summarized below by Quantum News Briefs. Government support could happen in several ways:
Government as buyer. Hesitance among both quantum companies and buyers can contribute to market risk and create a negative feedback loop, stalling progress. Through guaranteed purchases, government can help create the foundation of a market and lessen the risk for companies to make continued investments.
Government as infrastructure provider. Making quantum information technologies more reliable and accessible will likely require new technical discoveries made by skilled workers. Public sector organizations such as government agencies and universities should help create the courses, educational content, and upskilling programs that can reduce technical risk and help propel the industry.
Government as regulator. Countries around the world are flooding investment into quantum. Ironically, this investment itself is leading to uncertainty risk, because it places quantum in the frame of larger geopolitical tensions concerning the control of emerging technologies. This leaves government leaders with a dilemma: how to protect national security and IP without stalling technical progress. Enshrining key ethical principles can give industry a clearer regulatory process to follow.
Public sector leaders can help identify and reduce the risks standing in the way of a quantum-enabled future, even as the specifics of that future change over time. A  few small steps can help leaders get started:
Give it a try. While many nations have already adopted a national quantum strategy, individual agencies and universities should begin looking to pilot quantum technologies on a small scale.
Build the workforce. Experimenting with quantum solutions has the added benefit of beginning to build the quantum workforce within the public sector. Training is important, but real-world experience using the technology to solve mission problems can be invaluable.
Manage a portfolio of bets. Quantum is not a point solution; it needs an ecosystem of technologies to make it work. Therefore, cultivating a quantum industry requires taking a portfolio approach.
Coordinate to stay flexible. Finally, the science, engineering, and business of quantum is changing so quickly that it is unlikely any solution put forward today will still be the best option in even a few years. As a result, leadership should actively coordinate with other agencies so that investments, skill-building, and proofs of concept are additive and not duplicative.Click here to rad the WSJ article by Deloitte in-entirety.
Ames scientists advance rare earth materials by using quantum computers
A team of scientists from the U.S. Department of Energy's Ames National Laboratory demonstrated a way to advance the role of quantum computing in materials research with an adaptive algorithm for simulating materials.
A primary research focus at Ames Lab is rare earth materials. These materials are used in a variety of technology, including smart phones, computer hard drives, light-emitting-diodes (LEDs), electronic displays, and permanent magnets for alternative energy technology, such as wind turbines.
Reliance on rare earth materials is challenging because they are expensive and limited in their geographic distribution. Scientists at Ames Lab are working to find alternative materials that can substitute for rare earths but are less expensive and more available. To accomplish this task, scientists need a better understanding of rare earths and their behavior in various materials and applications. Using quantum computers to aid in this research can potentially make the process more efficient and allow scientists to make advancements more quickly.
Yongxin Yao, a scientist at Ames Lab, explained that currently it is challenging to accurately simulate rare earth materials on a computer because of their complex electronic structure. The approach his team developed is based on impurity models, which describe magnetic impurities in materials. Additionally, these models take into account how the impurity interacts with the rest of the material and helps capture the electronic properties. Their approach also uses quantum embedding methods to simulate the bulk materials.
In this case, quantum embedding refers to a lower dimensional representation of the material. The scientists adopted a systematic way to simplify how the bulk material is represented to make these simulations possible. Using quantum embedding reduces computational resources, while maintaining accuracy.
ETSI releases world first protection profile for quantum key distribution
ETSI has just released a Protection Profile (PP) for the security evaluation of quantum key distribution (QKD) modules, ETSI GS QKD 016. Quantum News Briefs summarizes the April 27 announcement.
This Protection Profile is a first and anticipates the need for quantum safe cryptography. The ETSI specification will help manufacturers to submit pairs of QKD modules for evaluation under a security certification process. Such modules can be used by telecom operators and enterprises in securing their networks with the knowledge that certified products have been subjected to the scrutiny of a formal security evaluation process. The Protection Profile specifies high-level requirements for the physical implementation of prepare and measure QKD protocols through to the output of final secret keys.
First Protection Profile for the security evaluation of quantum key distribution (QKD) modules
* Anticipates the need for quantum safe cryptography
* Will help manufacturers to evaluate QKD under a security certification process
* Using widely recognized security certification scheme of the Common Criteria for Information Technology Security Evaluation
"We are delighted to publish this initial Protection Profile as an important step to help certify QKD modules under the widely recognized security certification scheme of the Common Criteria for Information Technology Security Evaluation," says Martin Ward, Chair of the ETSI ISG QKD. Click here to read announcement in-entirety.
Sandra K. Helsel, Ph.D. has been researching and reporting on frontier technologies since 1990.  She has her Ph.D. from the University of Arizona.