Quantum News Briefs May 23: NATO contractor accused of smuggling quantum computing and other advanced technology to Russia; JPMorgan Chase & QC Ware collaborate on quantum finance for deep hedging; QCI signs letter of intent to acquire privately held artificial intelligence platform millionway + MORE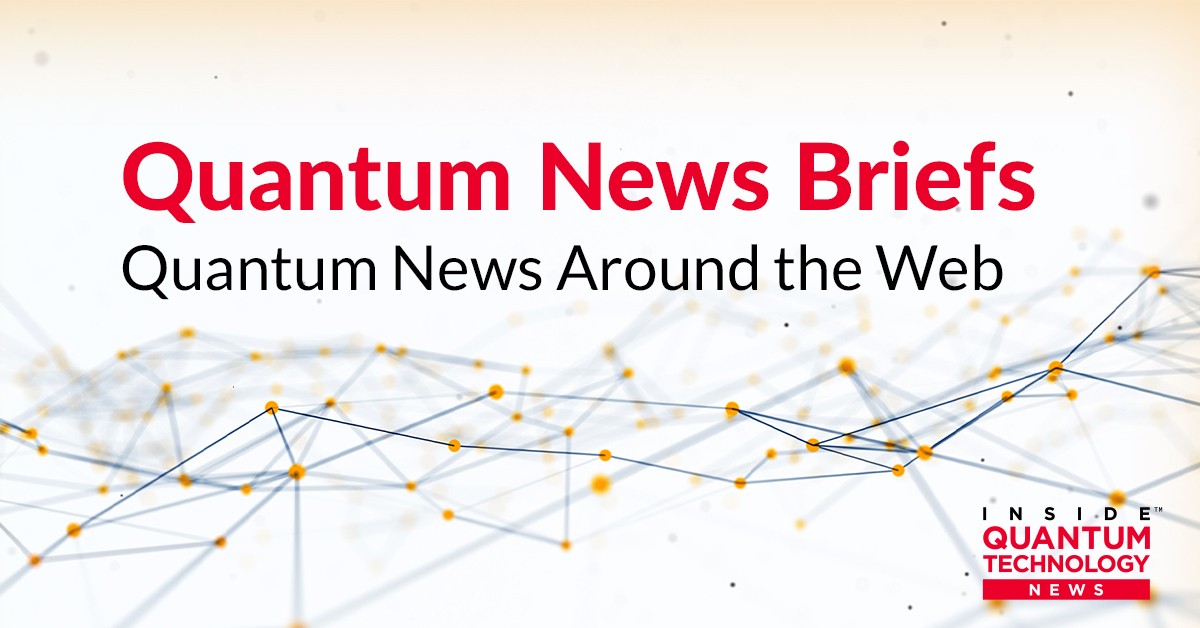 Quantum News Briefs May 23: NATO contractor accused of smuggling quantum computing and other advanced technology to Russia; JPMorgan Chase & QC Ware collaborate on quantum finance for deep hedging; QCI signs letter of intent to acquire privately held artificial intelligence platform millionway + MORE.
NATO contractor accused of smuggling quantum computing and other advanced technology to Russia
A NATO contractor has been arrested under suspicion he helped Russia obtain advanced military technologies related to quantum computing and nuclear testing, the Justice Department said, according to the May 17 Stars & Stripes. Quantum News Briefs summarizes.
Nikolaos "Nikos" Bogonikolos, 59, faces charges tied to wire fraud and smuggling, documents unsealed Tuesday in federal court said. Bogonikolos, of Athens, Greece, was arrested in Paris last week and faces extradition to the U.S., a Justice Department statement said Tuesday. The case against Bogonikolos portrays him as a man with access to sophisticated military technology, which he smuggled to blacklisted companies tied to Russia's intelligence services. Bogonikolos helmed the Aratos Group, a defense and technology conglomerate with ties to NATO in his home country and the Netherlands, the criminal complaint said. Bogonikolos and the Aratos Group acquired sensitive military equipment and then concealed a reshipping scheme to Russia, the complaint said.
Some of the shipped items included lasers and transistors that can be used in quantum cryptography research and nuclear weapons testing, according to court documents.
"As alleged, while ostensibly operating as a defense contractor for NATO and other ally countries, the defendant and his Aratos Group were double dealing, helping to fuel Russia's war effort and their development of next generation weapons," U.S. attorney Breon Peace said in a statement Tuesday.
Bogonikolos remains in custody in France pending extradition hearings, the Justice Department statement said. Click here to read the Stars&Stripes article by J.P. Lawrence in-entirety.
JPMorgan Chase & QC Ware collaborate on quantum finance for deep hedging
JPMorgan Chase has a long history of continually advancing its trading technology. In 2018, a team of diverse researchers, from JCMorgan Chase developed a stochastic model on Deep Hedging.
Earlier this year, JPMorgan Chase, QC Ware and the University of Paris successfully developed and used deep reinforcement learning algorithms and quantum computing to improve on the 2019 deep hedging model. The team also designed two additional and important algorithms that contributed to the success of the project: a policy search algorithm and an actor-critic algorithm. Quantum News Briefs summarizes a May 22 Forbes article Paul Smith-Goodson, Moor Insights and Strategy,discussing this effort
This project was the first collaboration between JPMorgan Chase and QC Ware.  Smith-Goodson discusses how it was developed with two key members of the research team.
"We are very happy with the results," Dr. Pistoia said. "Of course, we cannot use this algorithm in today's production environment because the hardware is not yet up to speed. However, the essence of our work is to become quantum ready. So we build the algorithms and then when the hardware catches up, we have the algorithms ready. And, we're also happy because in this case we have a higher-quality solution."
He also spoke with Dr. Iordanis Kerenidis is the senior vice president of quantum algorithms at QC Ware Corp. research director at the Centre national de la recherche scientifique (CNRS) and director at the Paris Centre for Quantum Computing. Dr. Kerenidis said, "What we found out from this research is that quantum is actually natively very good in a distributional approach because quantum states can naturally hold large distributions," he said. "This was the right framework to use, and because it's so natively quantum, quantum reinforcement learning, and in particular the distributional actor-critic algorithm, is very effective and produces very good results."
This research was done on Quantinuum's H1-1 and H1-2 trapped-ion quantum processors, utilizing circuits with up to 16 qubits.
Development of this quantum deep hedging algorithm is important research for several reasons:
A. The researchers replaced a classical bottleneck in the original 2019 algorithm with a quantum solution but left the basic logic of the original algorithm intact.
B. This research represents a turning point because the algorithm demonstrates quantum computing's deep learning capabilities, not only in finance, but in the general area of machine learning.
C. The researchers cleverly used superposition to analyze all possible future values simultaneously. This cannot be done classically because the problem is exponentially complex. An attempt to solve it classically would limit the solution to suboptimal approximations.
D. Overall, the research team met objectives for developing the quantum deep hedging model.
Click her to read this substantive, lengthy article in-entirety.
QCI signs letter of intent to acquire privately held artificial intelligence platform millionway
Quantum Computing Inc. has announced that its Board of Directors has unanimously approved the signing of a non-binding Letter of Intent (LOI) to acquire up to 100% of the AI firm, millionways, creator of the world's first emotionally-intelligent AI platform, pending the completion of due diligence by independent third party valuation and fairness opinion firms. Quantum News Briefs summarizes.
The LOI follows the teaming and combining of millionways' AI sensing algorithms with QCI's quantum photonics computing power, including substantive progress made since the Company's initial testing engagement announced in April 2023.
Based in New York City, millionways is a leader in the development of AI algorithms used to effectively provide next-gen feedback to users on their emotional state and personality insights. Millionways' advanced emotionally-intelligent AI platform uniquely combines analysis and matchmaking algorithms based upon various forms of user-generated text or audio-to-text data with at least 500 words. The technology offers quick-turnaround analysis. Unlike other machine learning platforms such as ChatGPT, Alexa, or Siri, the millionways proprietary methodology and algorithms make behavorial predictions based on psychological patterns driven by underlying emotions. The methodology, known as Personality Systems Interactive (PSI) theory, is a recognized and validated model for studying the dynamics of personality development and emotional state. The millionways AI model delivers human behavior personality assessments that have clear applications in making the most informed decisions in healthcare, hiring, dating, customer relations, and general applications where social interactions drive behavorial outcomes.  Click here to read complete May 22 announcement.
Former Israeli Prime Minister Naftali Bennett joins Quantum Source Board of Directors
Quantum Source Ltd. has welcomed former Israeli Prime Minister Naftali Bennett to its board of directors. Bennett's exceptional leadership and extensive experience will be instrumental in driving Quantum Source's mission of advancing quantum computing technology and shaping the future of computing.
"Quantum computing is one of the few technologies that has the potential to move the world forward in a significant way. As a true high-tech nation, Israel has the opportunity to lead once again in this developing area of innovation. The Quantum Source team will play a significant role in this progress," said Naftali Bennett.
Quantum Source is at the forefront of revolutionizing the computing industry through cutting-edge research and development in quantum technology. By leveraging the power of quantum bits (qubits), quantum computing offers unparalleled computational speed and the potential to solve complex problems in various fields.
Quantum Source is developing technology to enable the efficient implementation of large scale, fault-tolerant, photonic quantum computers. To date, companies have built small quantum computers with just tens or hundreds of qubits. While these rudimentary quantum computers are truly groundbreaking technology, the systems are not yet commercially viable.
"We are honored to have Naftali Bennett join our board of directors. He has a deep appreciation for the profound, positive impact quantum technologies can have on innovation across many areas," said Oded Melamed, co-founder and CEO of Quantum Source. "He also brings the rare first-person experience of having built a very successful technology company from day one. His perspective and leadership will be invaluable as we continue our work of advancing the frontiers of quantum computing technology."
Quantum Source has raised to date a $27 Million seed round from Grove Ventures, Pitango First, Eclipse, Dell Technologies Capital and 10D – making it one of the largest seed financings in Quantum Computing. Click here to read announcement in-entirety.
Sandra K. Helsel, Ph.D. has been researching and reporting on frontier technologies since 1990.  She has her Ph.D. from the University of Arizona.