Quantum News Briefs March 28: Jülich leads QC4EO, new joint project studying quantum advantage for earth observation applications; "A Report on Swedish Quantum Agenda"; Mynaric selected by German government for multiple projects to develop quantum communication capabilities + MORE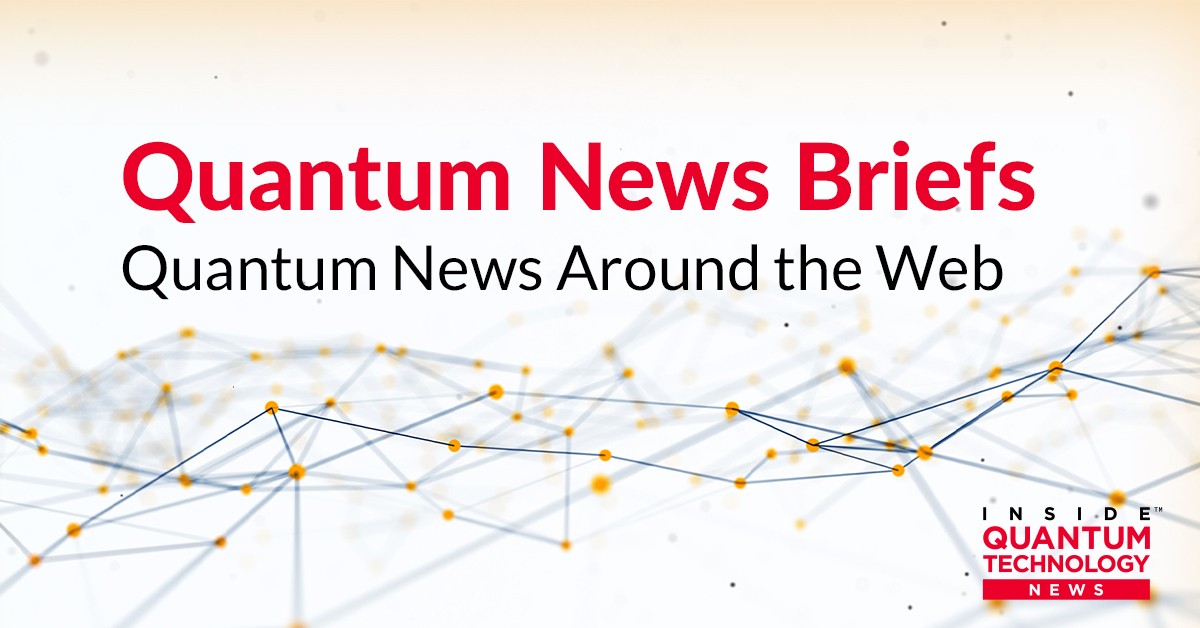 Quantum News Briefs March 28: Jülich leads QC4EO, new joint project studying quantum advantage for earth observation applications; "A Report on Swedish Quantum Agenda"; Mynaric selected by German government for multiple projects to develop quantum communication capabilities + MORE.
Jülich leads QC4EO, new joint project studying quantum advantage for earth observation applications
The project QC4EO study was launched on March 15 with the participation of the ESA Technical Officer as the representative of the European Space Agency, which is funding this study.Quantum News Briefs summarizes.
The project consortium is led by Forschungszentrum Jülich, a joint effort of Jülich Supercomputing Centre (JSC) and the Institute for Quantum Computing Analytics (PGI-12), and it includes Thales Alenia Space (France and Italy), the National Institute of Nuclear Physics (INFN), and IQM Quantum Computers.
The primary objective of this study is to investigate whether quantum computing (QC) can provide a quantum advantage to Earth observation (EO) applications within a medium to long timeframe, i.e. between the next 3–5 to 15 years.
Specifically, the study aims to answer the following questions:
How can QC enhance EO applications?
What software and hardware developments are required to achieve this quantum advantage?
The study is scheduled to last 5 months and will involve multiple activities that will be carried out by its multidisciplinary consortium, comprising partners with different competencies, each a leader in their respective areas. A broad view will be obtained, ranging from state-of-the-art quantum technologies (with related bottlenecks) and commercial needs to pure research and the development of innovative solutions with the potential to be breakthroughs in EO and beyond. Click here to read announcement in-entirety.
"A Report on Swedish Quantum Agenda"
The March 23 Science Business" issue covered the announcement of a recent "Report on the Swedish Quantum Agenda". Quantum News Briefs summarizes.
One of the EU initiatives in quantum technology is "The European Quantum Communication Infrastructure" with the goal of building a secure infrastructure for data and communication across the EU. The financing consists of both EU funds and funding from the individual member states.
These days, Vinnova makes decisions about funding a Swedish node led by KTH where several Swedish universities and companies collaborate.
Related:  IQT Nordics 2023; June 6-8
Vinnova, together with WACQT, Swelife and the Swedish Research Council, has produced the report "A Swedish Quantum Agenda" which identifies a number of development areas to strengthen Sweden's position in quantum technology. It includes the need to formulate a Swedish national strategy, coordination of all activities in the area, support for education and innovation and to ensure long-term financial support for quantum research.
"Quantum technology is a promising new technology area and it is extremely important to raise the awareness of decision-makers, investors and the public. It is positive for start-ups to get all support we can so that Sweden does not fall behind in this area, which in the fairly near future may become very important for our economy, competitiveness and the development of society in general," says VD Johannes Swartling.
Sweden also has strong broader research in quantum technology, mainly thanks to the large investment at Wallenberg Centre for Quantum Technology, WACQT. However, this is private and has time-limited funding from the Knut and Alice Wallenbergs foundation (KAW). Correspondingly larger funding is also not available when it comes to education and innovation in quantum technology. Therefore, a well-financed national quantum strategy that can help coordinate resources, prioritize investments and adapt research efforts is being called for.  NOTE: Click here to access the PDF Version of the "Swedish Quantum Agenda."
Click here to read the Science Business that article in-entirety.
What is the 'steal now, crack later' quantum computing threat?
The rise in quantum computing this decade is pushing cyber criminals into stealing encrypted business data with the hopes of cracking it in the future, writes Keri Allen of ITPro. Quantum News Briefs summarizes the March 21 article below.
Security risks from quantum computing extend beyond the nature of harvesting encrypted data now with a view to decrypting it at an indeterminate future date. The breaking pf existing public key cryptography will also have an impact on the encryption used for secure communications and digital signatures.
According to Gartner, conventional asymmetric cryptography is set to become unsafe to use as soon as 2029 – and will require the support of larger key sizes in just three years. Gartner's senior director analyst and co-author of the report, Mark Horvath, says, though, there's at least a decade before something like 2048-bit key can be broken.
"Blockchains are also technically breakable by quantum computing," adds Horvath, "and so the major blockchain companies like Bitcoin and Ethereum are (already) working on quantum-safe protocols for blockchains." These cryptocurrencies aren't alone in preparing for the dawn of quantum computing and its potential effect on cyber security.
The National Institute of Standards and Technology (NIST) in the USA has been working on its post-quantum competition for standardising protocols since 2017. At the end of last year, too, President Biden signed the Quantum Computing Cybersecurity Preparedness Act.  A White House memo recently asked US agencies to perform a cryptographic inventory, alongside proposed legislation on post-quantum cryptography.
The responsibility for this preparation starts with the CISO or CIO within the organisations, and that the first steps should be to look at the sensitivity and long-term value of an organisation's data. Sensitivity will help you establish risk level, while lifespan will point to the steps you may need to be taken.
"If its lifespan is going to be two or three years you don't have to worry about it," says Horvath. "If it's more like four to seven years, then you can extend the key lengths that you use today. .  . . If you have data, such as mortgages, bonds or financial instruments, that have a lifespan of more than ten years, then you need to start thinking about what your strategy is going to be regarding the introduction of quantum safe encryption."
The transition to post-quantum encryption will be much more complex, as quantum doesn't act like the cryptography we have today. This means it's not as simple as a drop-in replacement, as the post-quantum algorithms currently identified have completely different key generation, exchange, encryption and decryption properties from the ones they're replacing.
"For most cyber criminals the cost of accessing the quantum computing power is going to put it out of their reach, plus the need to resort to such sophisticated tools is not currently there," says Will Richmond-Coggan, a litigator at law firm Freeths. This is because the majority of cyber criminals focus on low-hanging fruit, where information can be accessed using traditional methods like social engineering or phishing. Experts agree those using quantum computing for nefarious means will mainly be nation state actors or state-sponsored groups looking to access highly sensitive information that could potentially affect national security. Click here to read the ITPro article in-entirety.
Mynaric selected by German government for multiple projects to develop quantum communication capabilities
Mynaric, a leading provider of industrialized, cost-effective and scalable laser communications products, recently announced that it has been selected for three technology development projects related to quantum communication. The projects are part of the second phase of the QuNET initiative funded by Germany's Federal Ministry of Education and Research (BMBF). Mynaric's technology development will be co-funded with a total amount of up to 5.6 million Euros between 2023 and 2025.
Mynaric's work as part of the projects will be performed entirely in Germany and include:
Development of a scalable optical ground station prototype capable of receiving quantum keys from ultra-secure satellite-based networks in space
Demonstration of an optical communications terminal for airborne high-altitude platforms that can exchange quantum keys through air-to-air and air-to-ground links
Exploration of compact optical technologies to enable quantum key and laser communication for fixed and mobile network nodes
"Mynaric has always been pushing the boundaries of laser communications technology and these projects are a continuation of that streak," said Joachim Horwath, CTO & Founder of Mynaric. "Quantum communication allows levels of cyber-security needed to confront future threats on data integrity and security. Optical communications terminals are a basic building block needed to realize quantum networks across large distances and in mobile scenarios."
The project selections represent another important win for Mynaric in the European government ecosystem after its selection by the European Space Agency (ESA) to investigate optical technologies for next generation high-throughput optical inter-satellite links and demonstrates Mynaric's continued position as an industry innovator. The European government market is set to gain greater relevance for Mynaric following the European Parliament's overwhelming adoption to establish the IRIS² European satellite constellation on February 15. The multi-orbital constellation of potentially hundreds of satellites is expected among a host of innovative technologies to include quantum encryption capabilities for secure communication and to include emerging European space companies in building the system that is scheduled to commence initial services by 2025 and achieve full operational capacity by 2027.
Click here to read announceent in-entirety.
Sandra K. Helsel, Ph.D. has been researching and reporting on frontier technologies since 1990.  She has her Ph.D. from the University of Arizona.