Quantum News Briefs June 7: China opens two quantum computing cloud platforms to general public; Haiqu raises $4M in Pre-Seed funding to boost adoption of near-term quantum computing; Researchers demonstrate secure information transfer using spatial correlations in quantum entangled beams of light + MORE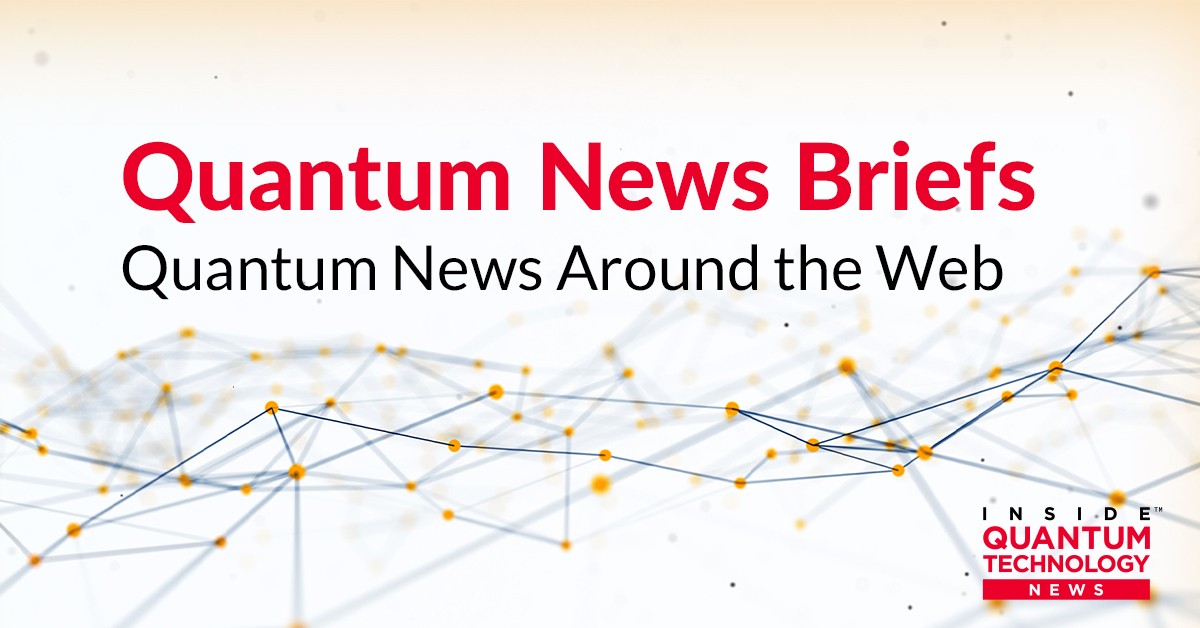 Quantum News Briefs June 7: China opens two quantum computing cloud platforms to general public; Haiqu raises $4M in Pre-Seed funding to boost adoption of near-term quantum computing; Researchers demonstrate secure information transfer using spatial correlations in quantum entangled beams of light + MORE.
China opens two quantum computing cloud platforms to general public
China has recently launched two cloud platforms designed to allow the general public to make use of its quantum machines, but US sanctions will hobble its chase of Google, IBM and Microsoft. Quantum News Briefs summarizes June 6 article from Asia Times.
One is a feature added to the country's fastest quantum computer, Zuchongzhi 2. The new cloud platform was launched by the University of Science and Technology of China (USTC) with the support of the Anhui-based QuantumCTek and Beijing Zhongke Arclight Quantum Software Technology.
The other was launched by the Beijing Academy of Quantum Information Sciences (BAQIS), a scientific research unit of the Beijing government. It is known as Quafu – pronounced similarly to Kuafu, a mythological Chinese giant who tries to capture the Sun by running after it, eventually dies of dehydration and is turned into a mountain ranger. To Chinese, his story is a tale of bravery and self-sacrifice.
Chinese scientists say these new cloud platforms can help researchers and students experience the computing power of quantum computers while advancing their own scientific research.
"China had missed the golden development period in the era of traditional computing but quantum computers provide us with new opportunities," Fan Heng, a researcher at the Chinese Academy of Sciences (CAS) Institute of Physics, said. "The development of quantum cloud platforms is a good starting point for China to build its quantum industry."
he Chinese public can use the cloud platform to experience simple quantum computer programming and image experiments, said Peng Chengzhi, executive vice director of the project and chairman of QuantumCTek. The platform will be connected to more quantum computers in the future, he said. Click here to read the June 6 AsiaTimes article by Jeff Pao in-entirety.
Haiqu raises $4M in Pre-Seed funding to boost adoption of near-term quantum computing
Haiqu, a startup building software to enhance the performance of quantum processors, today announced it has closed a $4 million financing round led by MaC Venture Capital with participation from Toyota Ventures, SOMA capital, u.ventures, SID Venture Partners, and Roosh Ventures. The round also included private contributions from Paul Holland, Alexi Kirilenko, and Gordy Holterman. Quantum News Briefs summarizes the June 6 announcement.
"We are accelerating the timeline to practical quantum computing by developing novel software that can extract value out of clumsy near-term quantum hardware, enabling quantum applications that were previously impossible," said Richard Givhan, co-founder and CEO at Haiqu. "We are proud to be backed by investors with remarkable deep-tech ecosystems and a track record of supporting the commercialization of breakthrough tech."
Haiqu addresses the foundational bottlenecks precluding the adoption of quantum applications: a limited number of qubits and the high noise sensitivity of near-term quantum processors. The startup develops platform-agnostic technology that extends quantum hardware capability by orders of magnitude and enables a broader set of practical use-cases in finance, chemistry, life sciences, mobility and other domains.
The investment will drive the company's research and development efforts and the establishment of strategic partnerships to bring their product to market.
"MaC is thrilled to be supporting Haiqu through their next stage of growth," said Adrian Fenty, Managing General Partner at MaC Venture Capital. "We firmly believe that the future of quantum computing will fundamentally change the way we are able to solve meaningful problems. We hold deep convictions that Richard and Mykola are uniquely positioned to tackle these issues in order to accelerate the timeline that will enable quantum to get to widespread commercial adoption."
Having started as a remote collaboration of co-founders, Haiqu is growing globally via a distributed team spanning the United States, Ukraine, Canada, Germany, and Switzerland. Given the scarcity of quantum talent, this provides the startup access to some of the world's leading talent pools in quantum and software engineering.  Click here to read announcement in-entirety.
U of Oklahoma researchers demonstrate secure information transfer using spatial correlations in quantum entangled beams of light
Researchers at the University of Oklahoma led a study recently published in Science Advances that proves the principle of using spatial correlations in quantum entangled beams of light to encode information and enable its secure transmission.
Alberto Marino, the Ted S. Webb Presidential Professor in the Homer L. Dodge College of Arts, led the research with OU doctoral student and the study's first author Gaurav Nirala and co-authors Siva T. Pradyumna and Ashok Kumar. Marino also holds positions with OU's Center for Quantum Research and Technology and with the Quantum Science Center, Oak Ridge National Laboratory.
"The advantage of the approach we introduce is that you're not able to recover the encoded information unless you perform joint measurements of the two entangled beams," Marino said. "This has applications such as secure communication, given that if you were to measure each beam by itself, you would not be able to extract any information. You have to obtain the shared information between both of the beams and combine it in the right way to extract the encoded information."
"The idea behind the project is to be able to use the spatial properties of the light to encode large amounts of information, just like how an image contains information. However, to be able to do so in a way that is compatible with quantum networks for secure information transfer. When you consider an image, it can be constructed by combining basic spatial patterns know as modes, and depending on how you combine these modes, you can change the image or encoded information," Marino said. Click here to read entire coverage in June 5 Science Daily.
NaaS vendors on front line to deliver quantum-ready security
Many CIOs are moving from managing their own network to buying connectivity, managed Wi-Fi, capacity and even security and access control from expert service providers that offer networking as a service (NaaS).  They are effectively outsourcing the building, maintenance, upgrading and operating of the network to a trusted and experienced service provider. Vince Berk,  the Chief Strategist at Quantum Xchange, a post-quantum crypto-agility provider discusses the challenges these CIO face as the era of quantum computing approaches.  Quantum News Briefs summarizes Berk's May 25 article.
As every organization is unique, these providers are differentiating themselves in how well they can create a customized offering to suit each specific need. For instance, connecting an electric utility grid with many small sites requires a different network than connecting a factory manufacturing facility to backend headquarters and data centers.
just as connectivity requirements differ from business to business, so do security requirements. Hospitals, for example, must comply with HIPAA standards designed to protect sensitive patient data. This introduces a different and nuanced set of requirements for their security.
Yet there's one area of network security that NaaS providers may be overlooking: cryptographic agility, also referred to as crypto-agility.
The U.S. government is pushing ahead with plans to develop a new, quantum-resistant cryptographic standard, based on new mathematical algorithms. Yet as soon as quantum computers hit their stride, even a new standard is at risk of being broken far more quickly than anyone wants to believe. Further encryption evolution is necessary and expected.
The opportunity for NaaS vendors is to deploy crypto agility now as part of a strategic plan to establish a future-proof infrastructure that can easily keep pace with changing business requirements, regulatory mandates and customer demands well into the era of quantum computing.  Click here to read Berk's complete article in Forbes.
Sandra K. Helsel, Ph.D. has been researching and reporting on frontier technologies since 1990.  She has her Ph.D. from the University of Arizona.