Quantum News Briefs July 19: Infleqtion and QinetiQ win award to apply quantum computing to logistics; RED Semiconductor and Crypto Quantique to develop advanced chip with quantum-based security; Launch of the Center for Quantum Information, Engineering, Science and Technology (Penn QUIEST) + MORE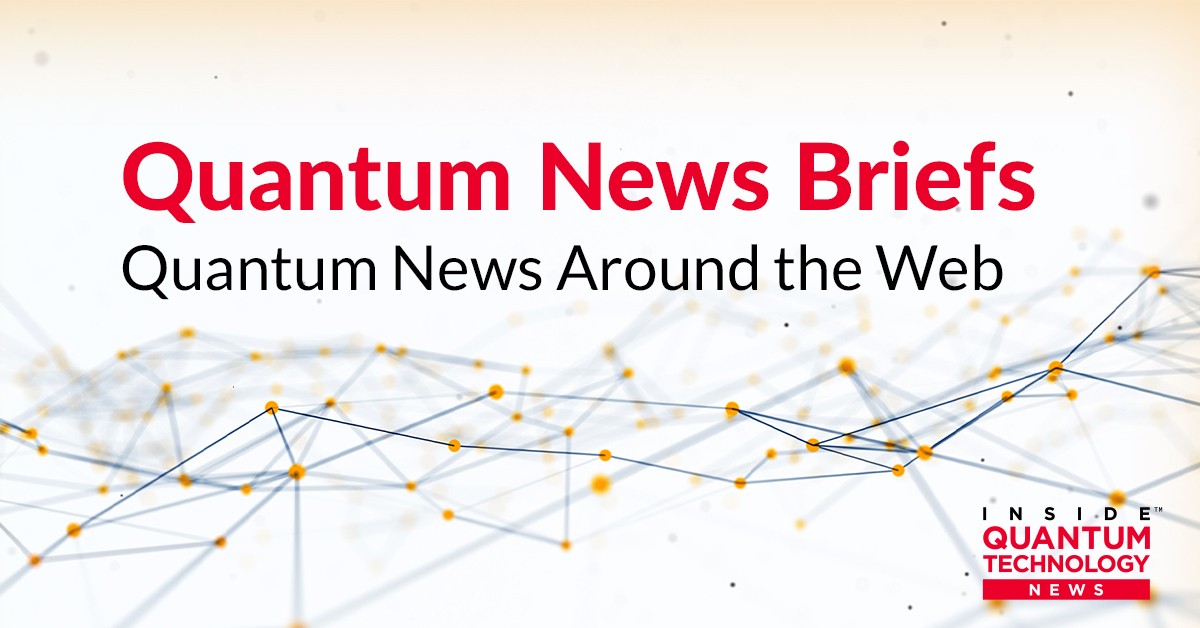 Quantum News Briefs July 18:
Infleqtion and QinetiQ win award to apply quantum computing to logistics
Infleqtion and QinetiQ, a leading defense company, have announced their successful bid for the Quantum End-to-end Compilation for Combinatorial Optimisation (QECCO) project through Innovate UK. Quantum News Briefs summarizes their announcement.
This groundbreaking initiative will focus on using quantum algorithms to solve complex combinatorial optimisation problems in logistics and deliver this crucial quantum software capability to the UK National Quantum Computing Centre (NQCC). These optimisation problems are critical for national security yet often computationally intractable using classical computers, but quantum computers have the potential to provide significant speedups.
QECCO will address key challenges in the logistics sector, including job-shop scheduling, packing, routing, and satisfiability problems. These complex problems possess high business value, limited classical solutions, and tremendous potential for quantum solutions. Through stakeholder workshops and collaborations with end-users in logistics and transport, QECCO will identify specific high-impact target problems and refine algorithmic implementations.
The project team comprises experts in quantum software development, algorithmic implementation, and benchmarking, with a strong foundation from Infleqtion's Superstaq platform, which has already demonstrated enhanced solution quality on real quantum hardware, along with the Supermarq benchmarking infrastructure for performance evaluation.
"We are delighted to be part of the QECCO project and collaborate with QinetiQ to unlock the full potential of quantum computing," said Dr Timothy Ballance, GM of Infleqtion UK.
Dr Gillian Marshall, QinetiQ's Senior Fellow for Quantum Technologies said "QinetiQ is excited to be supporting Infleqtion on the QECCO project. Infleqtion is a natural partner of choice for QinetiQ. Their market-leading quantum technologies fit well with QinetiQ's own quantum information processing and classical/quantum engineering and integration expertise.
"The advances being made in Quantum technology offer some of the most exciting opportunities in the innovation pipeline for the years ahead, potentially revolutionising everything from medical diagnostics and autonomous vehicles, to military navigation and cybersecurity. This report highlights just how important the commercialisation of quantum technology will be in unleashing the UK's full potential as a science superpower," said Minister of State at the new Department for Science, Innovation and Technology George Freeman MP.  Click here to read announcement in-entirety.
RED Semiconductor and Crypto Quantique to develop advanced chip with quantum-based security
RED Semiconductor and Crypto Quantique have signed an agreement to develop a microprocessor chip for Edge-computing applications, enabling advanced quantum-based security. Quantum News Briefs summarizes announcement by New Electronics.
RED Semiconductor creates advanced microprocessors that enhance AI and security applications at the Edge. Crypto Quantique is a provider of quantum-based security solutions for the internet of things (IoT).
The chips will use Crypto Quantique's QDID technology to provide advanced identification and enhanced security. Today, Edge devices are a major target for hackers. According to Check Point Research in the first 2 months of 2023, attacks on IoT devices were 41% higher than in 2022, and more than triple the number from two years ago.
RED Semiconductor's microprocessor uses a vectorised Instruction Set Architecture (ISA) to deliver highly efficient processing of the algorithms and mathematical functions used in AI, autonomy and cryptography. Crypto Quantique's QDID utilises the quantum effects between transistors to create unique and unclonable identifiers, at the chip level.
Both companies believe that higher application security can be achieved by implementing the two companies' technologies into a single chip where the computation of ciphers and verification of identity takes place in an inaccessible section of the chip from other applications, preventing critical data from being exposed. This combination of technologies will result in an IoT chip whose encrypted data is exceptionally difficult to hack. Click here to read the announcement in-entirety.
Launch of the Center for Quantum Information, Engineering, Science and Technology (Penn QUIEST)
The formation of the Center for Quantum Information, Engineering, Science and Technology (Penn QUIEST) has been announced by Dawn Bonnell, Senior Vice Provost for Research at the University of Pennsylvania, along with Vijay Kumar, Nemirovsky Family Dean of the School of Engineering and Applied Science, and Steven J. Fluharty, dean of the School of Arts & Sciences and Thomas S. Gates, Jr. Professor of Psychology, Pharmacology, and Neuroscience. Quantum News Briefs summarizes the July 18 announcement.
QUIEST is a transdisciplinary field that draws from physics, materials science, and information science. "We are at an inflection point in science and technology akin to the digital revolution of the 1960s or nanotechnology revolution of the 1990s," said Dr. Bonnell. "As with these earlier transformations, we cannot foresee where the technology will go. But Penn has a long and extensive history in leading the way in information science, and with QUIEST we are prepared to capitalize on the inevitable surprises and opportunities that will emerge."
The new center brings together around 30 faculty from the School of Engineering and Applied Science and the School of Arts & Sciences. Through a strategic hiring initiative in the School of Engineering and Applied Science, Penn will recruit a group of new faculty members who will further expand research and teaching capabilities in QUIEST, leveraging and amplifying existing strengths. "Quantum technology is not only poised to revolutionize Data Science, it will also advance Penn Engineering's signature initiatives in Engineering Health and in Energy and Sustainability," said Dean Kumar.
Penn QUIEST will facilitate interdepartmental and cross-school academic collaboration and scholarship, support the initiation of new transdisciplinary research projects, and help to coordinate academic programs in QUIEST. "This center will create a cohesive, collaborative community for students and researchers from across Penn to lead the world in advancing the boundaries of quantum science and technology towards meaningful, positive global impact," said Dean Fluharty. Click here to read the announcement in-entirety.
AI, quantum and nuclear technologies are key to Lockheed Martin's vision for Space 2050
Artificial intelligence, quantum computing and nuclear power are among the key technologies Lockheed Martin sees as important for future space missions according to Miriam Klaczynska's article in July 10 SpaceNews. Quantum News Briefs summarizes.
Through a project called Destination: Space 2050, Lockheed Martin executives are exploring, for example, how AI could assist scientific exploration of locations where communications with remote sensors would be disrupted by high latency.
In that type of environment, "you really can't interact with the robotic sensors," David Lackner, Lockheed Martin senior manager strategy and business development, said during a June 28 webinar. "You have to have something that is super autonomous that can deal with unknown unknowns. We've got some really interesting causal autonomy tools that … allow the AI to be super smart about running into something that it hasn't encountered before."
In addition, Lockheed Martin's Space 2050 report focuses on quantum computing, quantum communications and quantum remote sensing, technologies. "That computing infrastructure utilizing quantum will be there for us in the 2050 timeframe," Lackner said.
As a result, Lockheed Martin is developing "quantum algorithms to make use of quantum computers, quantum remote sensing and quantum communications," Lackner said. "Specific space applications of quantum are going to be super enabling for what we want to do."
Advancements in power and propulsion, including nuclear technologies, "are going to be absolutely critical in terms of dramatically improving the types of missions that you can do and the types of science that you can collect," said Kate Watts, Lockheed Martin's vice president of Mission Strategy and Advanced Capabilities for Human and Scientific Exploration. "Think high-power generation, dramatically improved ISP related to propulsion, so you have more maneuverability" or the ability to reach distant locations more quickly. Click here to read the SpaceNews article in-entirety.
Sandra K. Helsel, Ph.D. has been researching and reporting on frontier technologies since 1990.  She has her Ph.D. from the University of Arizona.