Quantum News Briefs February 20: AUKUS countries team to develop key quantum capabilities, 2023 could be the breakthrough year for quantum computing; 2023 could be the breakthrough year for quantum computing; TREX Centre of Excellence in HPC for Quantum Chemistry funded by EU + MORE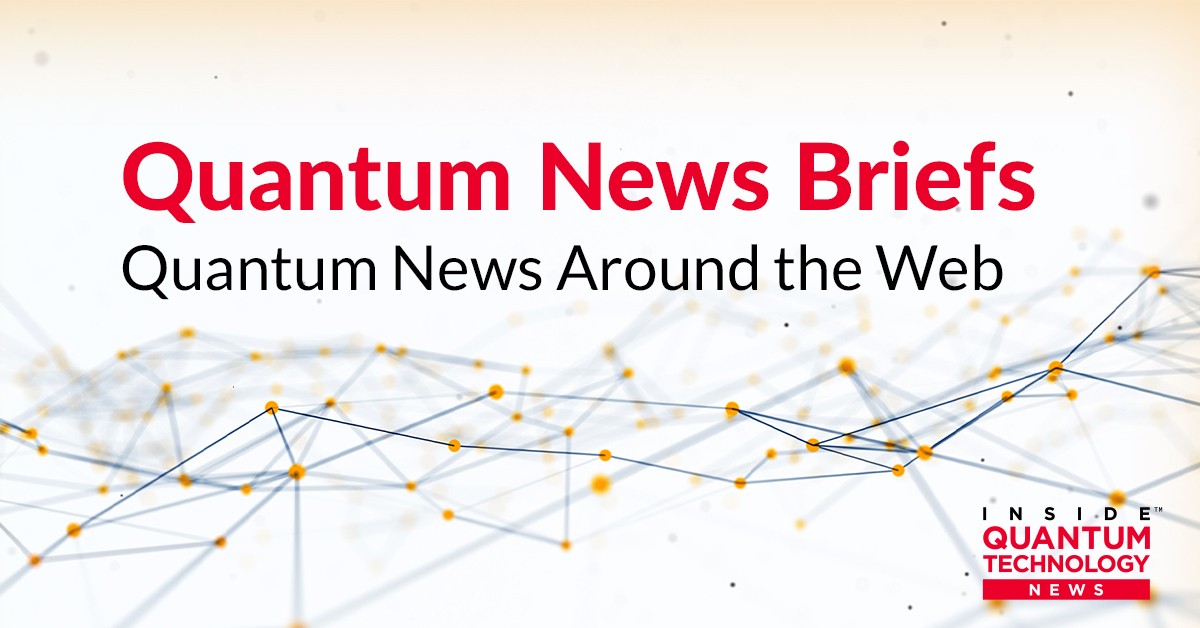 Quantum News Briefs February 20: AUKUS countries team to develop key quantum capabilities, 2023 could be the breakthrough year for quantum computing; 2023 could be the breakthrough year for quantum computing; TREX Centre of Excellence in HPC for Quantum Chemistry funded by EU + MORE.
AUKUS countries team to develop key quantum capabilities
Josh Luckenbaugh is the author of a lengthy article discussing the AUKUS (Australia-United Kingdom-United States) partnership and quantum technology. Quantum News Briefs summarizes.
Much of the focus of the AUKUS, is on nuclear-powered submarines. However, the agreement's other lines of effort to produce joint advanced military capabilities could prove just as significant. In particular, the effort to develop and integrate quantum technologies could give the three countries a major capability for the future, particularly in a potential Indo-Pacific conflict, experts said.
The three countries have formed the AUKUS Quantum Arrangement, which "will accelerate investments to deliver generation-after-next quantum capabilities," an April 2022 White House fact sheet on the implementation of AUKUS said.
A key part of AUKUS is the partnership's "commitment to a free and open Indo-Pacific." However, "[China]'s coercive and increasingly aggressive endeavor to refashion the Indo-Pacific region and the international system to suit its interests and authoritarian preferences" presents "the most comprehensive and serious challenge to U.S. national security," according to the 2022 National Defense Strategy.
The "initial focus" of the AUKUS Quantum Agreement will be on technologies for positioning, navigation and timing, with integration of quantum technologies through trials and experimentation set to get underway over the next three years. These technologies could prove critical in a contested logistics environment such as the Indo-Pacific.
The United Kingdom is the third largest quantum developing country after the United States and China, according to the UK National Quantum Technologies Programme website. Established in 2014, the program represents a "1 billion pound partnership between government, academia and industry, one that is fast-tracking quantum knowledge from laboratory to wider society," the website says.
Meanwhile, Australia "ranks eighth globally for quantum research impact" and "has notable strengths in its civilian quantum sector," said Jennifer Jackett, a non-resident fellow in the foreign policy and defense program at the Australia-based United States Studies Centre.  Click here to read the article in-entirety.
2023 could be the breakthrough year for quantum computing
Richard Murray of Orca Computing is the VentureBeat guest editor of a February 18 discussion "will 2023 be a breakthrough year for quantum computing?" Quantum News Briefs summarizes Murray's extensive discussion below:
Technical innovations vs market incumbents: During 2022, we saw the creation of many industry incumbents who used SPACs, IPOs, mergers or corporate sponsorship to build themselves substantial war chests to pursue some serious engineering activity. While these significant scale-up activities will continue, 2023 will also be the year of innovation and possible disruption. Amongst the big players, new players will emerge with alternative approaches towards quantum computing: Perhaps replacing qubits and gate models with qumodes, using model simulations and quantum annealing models.
Competition for financing: Despite the turmoil in the international financial markets, quantum computing may continue to buck the trend with large funding rounds. Also, 2023 will see an interesting comparison between public and privately owned quantum companies. Public companies will continue to put their capital to work, but at the cost of the short-term attention of investors and short sellers.
Making progress toward fault-tolerant machines: 2023 will not see error correction disappear. Far from it, the holy grail of quantum computing will continue to be building a machine capable of fault tolerance. 2023 may create software or hardware breakthroughs that will show how we're closer than we think, but otherwise, this will continue to be something that is achieved far beyond 2023.
Governments, users and HPC: 2022 saw the German government conclude the tendering process for some very large quantum computing projects, with one example of a €67m contract for two projects. In 2023, that trend will continue with yet more public procurements for quantum computing. Those tenders and the fact that they will be run through several of the world's HPC centers will force the quantum computing industry to live up to the rigor of tender requirements, and the delivery obligations which come with it.
Geopolitics standing in the way: Geopolitics will continue to shape quantum as it does the rest of the economy; this shaping could reach a fever pitch with the growing separation between the U.S. and China. As the race is on to develop quantum computers to gain a strategic lead in cybersecurity, intelligence operations and the economic industry, expect increasing restrictions to limit technological exchange and increasing impact on supply chains. This will be partially offset through bi and multilateral agreements between nations,. Many UK and European nations are fearful of being caught up in the middle of the China-U.S. tech competition, and so are urgently designing quantum tools to protect their interests.
A breakthrough year for quantum: However little we know about what the future holds, one thing is certain: The world will be watching. Click here to read Murray's Venture Beat editorial in-entirety.
TREX Centre of Excellence in HPC for Quantum Chemistry
TREX is the the targeted Center of Excellence (CoE) for the community of quantum chemistry funded by the European Commission. TREX has gathered a set of excellent European leading scientists working on quantum mechanical simulations of extreme accuracy in the framework of stochastic quantum Monte Carlo (QMC) methods. It aims at developing, promoting and maintaining open-source high-performance software solutions in the field of quantum chemistry, which will readily adopt upcoming exascale architectures.
A recent Trex workshop "Targeting chemical accuracy with quantum Monte Carlo on LUMI" was jointly organized by TREX Center of Excellence and ENCCS on January 26-31.
The TREX/ENCCS workshop provided a comprehensive overview of QMC and practical experience with QMC simulations based on Quantum Package and CHAMP codes. Participants were also introduced to LUMI, the first pre-exascale supercomputer of the EuroHPC Joint Undertaking, which is the fastest and most energy-efficient supercomputer in Europe. The workshop was designed for Ph.D. students and young researchers who had no prior experience with QMC methods and the sessions were structured in a way that provided both theoretical and practical knowledge.
Quantum mechanical simulations are a crucial part of both scientific and industrial applications, and QMC methods represent one of the most accurate ways to model electronic structures at the atomistic level. With QMC methods, researchers can simulate molecular systems to understand their electronic behavior and properties accurately. The recent development of exascale supercomputers has made it possible to utilize QMC methods to their fullest potential.  (Click here for complete information on TREX).
Tech Trends to watch for 2023: quantum computing, AI, multi-cloud, blockchain & 5G
The democratization of artificial intelligence (AI), multi-cloud, quantum computing, blockchain, and 5G are among the key tech trends to watch out for in 2023, according to the latest edition of a Tech Trends report released by HCLTech on February 15. Quantum News summarizes a recent Financial Express article discussing this prediction.
Industrial applications of quantum technologies will be realized in quantum-secure communications and optimising machine learning models with the help of quantum machine learning, the report said.
The report further stated that with technologies like 5G, AI, and extended reality, organizations will continue to distinguish themselves by creating immersive experiences in the coming years.
In 2023, there will be emergence of a more web 3.0-focused blockchain that will feature cohesive interoperability, automation through smart contracts and seamless integration.
In addition, there will be an increased sensitization towards green practices and how technology can be at the intersection to achieve sustainability-centric performance metrics and ESG goals. Also, for nearly 50% of HR leaders globally, employee experience has become a top priority. Cutting-edge technologies will drive better experiences – from hiring and onboarding to upskilling and employee engagement. Click here to read original Financial Express article in-entirety.
Sandra K. Helsel, Ph.D. has been researching and reporting on frontier technologies since 1990.  She has her Ph.D. from the University of Arizona.