Quantum News Briefs February 1: Atom Computing selected by DARPA to accelerate scalable quantum computing with atomic arrays of neutral atoms; SandboxAQ awarded U.S. Air Force contract for quantum navigation research; Cybertrust Japan integrates quantum-computing-hardened private keys from Quantinuum into new IoT quthentication platform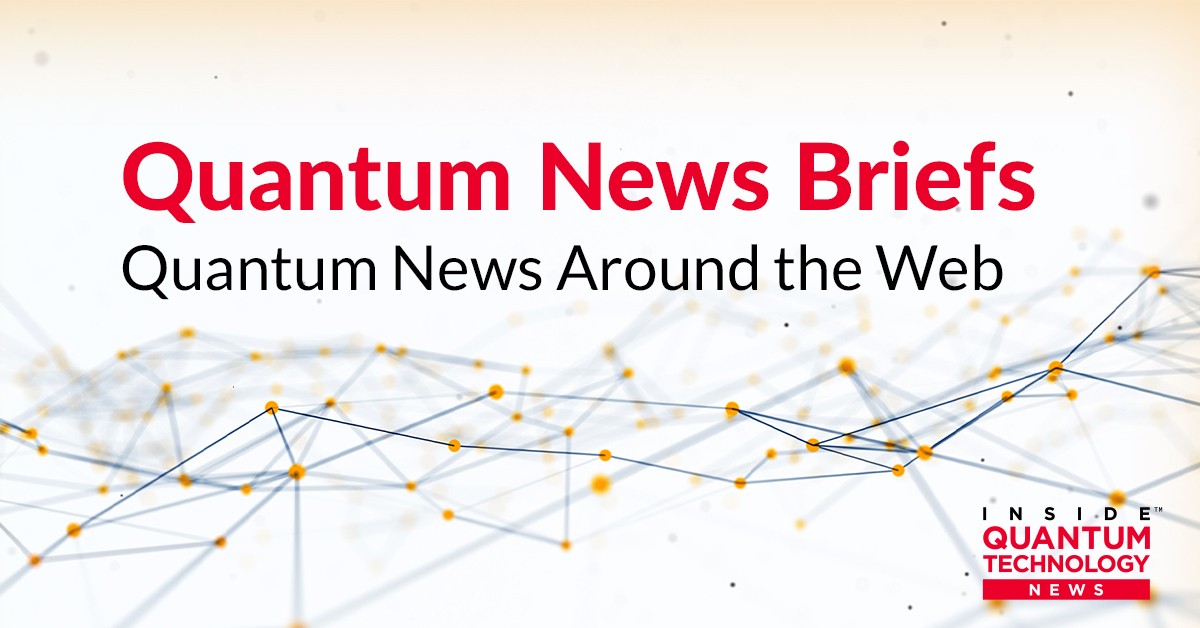 Quantum News Briefs February 1: Atom Computing selected by DARPA to accelerate scalable quantum computing with atomic arrays of neutral atoms; SandboxAQ awarded U.S. Air Force contract for quantum navigation research; Cybertrust Japan integrates quantum-computing-hardened private keys from Quantinuum into new IoT quthentication platform
Atom Computing selected by DARPA to accelerate scalable quantum computing with atomic arrays of neutral atoms
Atom Computing has been selected by the Defense Advanced Research Projects Agency (DARPA) to explore how atomic arrays of neutral atoms could accelerate the path to fault-tolerant quantum computing.
The company received a project award and funding to develop a next-generation system as part of DARPA's Underexplored Systems for Utility-Scale Quantum Computing (US2QC) program. According to DARPA, the primary goal of the US2QC program is to determine if an underexplored approach to quantum computing is capable of achieving utility-scale operation much sooner than conventional predictions.
For this project, Atom Computing will focus on the scalability of atomic array-based quantum computing and the capability of the company to produce systems based on the technology. Atom Computing has shown early demonstrations of its speed and the scalability of its technology by being the fastest company to develop a 100-qubit prototype and demonstrating record coherence times.
The DARPA-sponsored project will explore new ways to scale qubit count for larger systems, additional layers of entanglement connectivity for faster performance, and a broader set of quantum error correction algorithms for fault tolerance. Click here to read complete news announcement.
SandboxAQ awarded U.S. Air Force contract for quantum navigation research
 SandboxAQ announced it was awarded a Direct-to-Phase-II Small Business Innovation Research (SBIR) contract by the U.S. Air Force to research quantum navigation technologies.
Under the award, SandboxAQ will advance research and development for its quantum navigation system, which is being designed to complement the Global Positioning System (GPS) for accurate navigation in degraded, contested, or denied environments where the loss of precision GPS may negatively impact operations.
The company's AQ-powered quantum sensor prototype will be optimized in close coordination with the U.S. Air Force customer through a variety of identified innovation areas, including live demonstrations aboard Air Force aircraft.
"The SandboxAQ team is thrilled to be advancing this cutting-edge navigation research in collaboration with the U.S. Air Force," said Jen Sovada, President, Public Sector, at SandboxAQ. "AQ-powered navigation technology has great potential to be part of a comprehensive and resilient Assured Positioning, Navigation, and Timing solution across all domains and military service branches as well as for the Federal Aviation Administration and NASA. It also offers tremendous dual-use promise in the commercial sector for areas such as commercial aviation, unmanned vehicles, and logistics. We look forward to sharing the results of this exciting step forward."  Click here to read complete news announcement.
Cybertrust Japan integrates quantum-computing-hardened private keys from Quantinuum into new IoT quthentication platform
Quantinuum has announced that Cybertrust Japan Co., Ltd., leading certificate authority, has integrated its Quantum Origin quantum-computing-hardened private keys into a new certificate issuance and distribution platform for IoT devices to ensure secure communications now and into the future.
Cybertrust Japan's new authentication infrastructure for high-speed, high-volume certificate issuance and distribution for large volumes of IoT devices includes the NIST-selected post-quantum cryptography (PQC) algorithms.  The certificate authority is further protecting devices from current and advancing threats by incorporating Quantinuum's Quantum Origin solution, the only cryptographic solution that leverages the power of quantum computers to generate quantum-computing-hardened keys.
"Integrating Quantum Origin assures our customers that they can build innovative IoT-based solutions on a platform they can trust to deliver speed and higher security, including post-quantum algorithms support. As a result, customers and partners can use and sell our certification services securely for the long term," said Yasutoshi Magara, President & CEO of Cybertrust Japan. "We would like to promote activities aimed at realizing a safe and secure society together with Quantinuum." Click here to read announcement in-entirety.
Coherent Manipulation of Spin Qubits at Room Temperature
A team headed by Professor Wu Kaifeng from the Dalian Institute of Chemical Physics (DICP) in the Chinese Academy of Sciences recently announced success in initializing, controlling, and reading out spins at room temperature using quantum dots grown in solution. This represents a significant advancement in the field of quantum information science. Quantum News Briefs summarizes SciTechDaily announcement below.
Quantum information science is concerned with the manipulation of the quantum version of information bits (called qubits). When people talk about materials for quantum information processing, they usually think of those manufactured using the most cutting-edge technologies and operating at very cold temperatures (below a few Kelvin), not the "warm and messy" materials synthesized in solution by chemists. Recent years have witnessed the discovery of isolated defects in solid-state materials (such as NV centers) that have made possible room-temperature spin-qubit manipulation, but scaled-up production of these "point defects" will eventually become a challenge.
Colloidal quantum dots (QDs), which are tiny semiconductor nanoparticles made in solution, could be a game changer. They can be synthesized in large quantities in solution at low cost, yet with high finesse in size and shape control. Further, they are usually strongly quantum-confined, thus their carriers are well isolated from the phonon bath, which could enable long-lived spin coherence at room temperature. But room-temperature coherent manipulation of spins in colloidal QDs has never been reported, in that, a QD system whose spins can be simultaneously initialized, rotated, and readout at room-temperature remains to be invented.
Here the authors show that solution-grown CsPbBr3 perovskite QDs can actually accomplish this intimidating goal. "Our success here is enabled by a very rare combination of knowledge in materials, chemistry, and physics," said Professor Wu. "We fabricated strongly- and uniformly-confined CsPbBr3 QDs as the unique system for the study, and identified appropriate surface-ligand molecules to rapidly extract the electrons via charge-transfer chemistry for hole-spin initialization at room temperature. Meanwhile, we were able to utilize strong light-matter interaction of these QDs to perform coherent spin manipulation."  Click here to read complete SciTechDaily announcement.
Quantum News Briefs: Sandra K. Helsel, Ph.D. has been researching and reporting on frontier technologies since 1990.  She has her Ph.D. from the University of Arizona.
"