Quantum News Briefs December 20: U Toronto & Fujitsu use quantum-inspired computing to discover improved catalyst for hydrogen production; Castle Shield Holdings, LLC adds post-quantum cryptography (PQC) support to Typhos® communications app for audio/video calls; Is Quantum Cybersecurity the next guy's problem? + MORE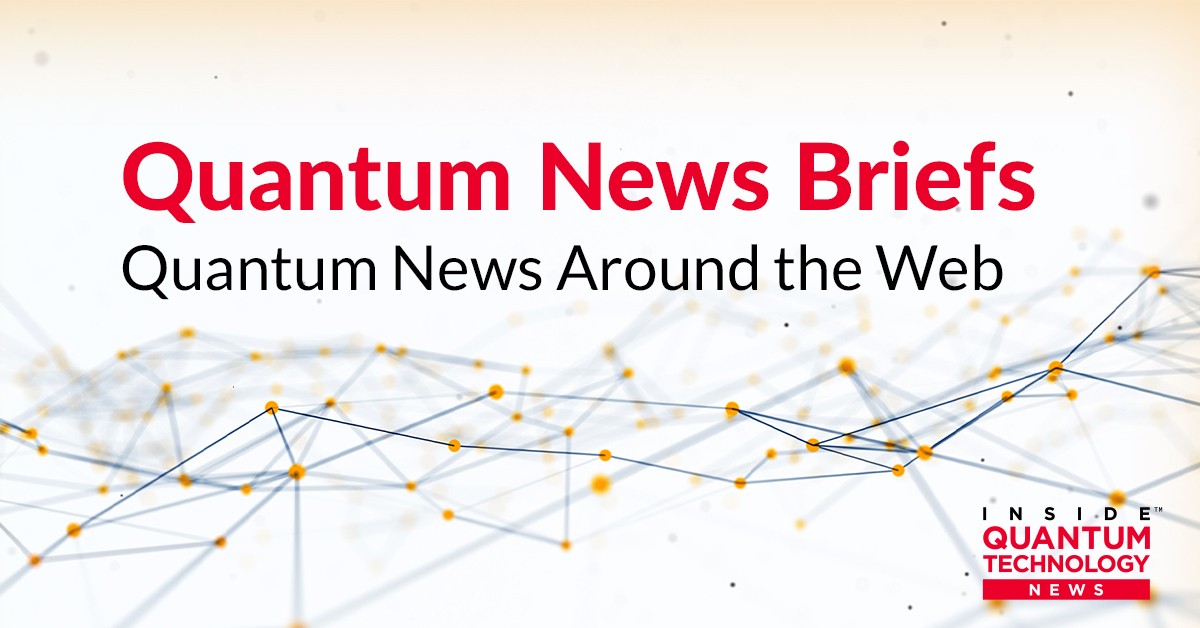 Quantum News Briefs December 20: U Toronto & Fujitsu use quantum-inspired computing to discover improved catalyst for hydrogen production; Castle Shield Holdings, LLC adds post-quantum cryptography (PQC) support to Typhos® communications app for audio/video calls; Is Quantum Cybersecurity the next guy's problem? + MORE
*****
U Toronto & Fujitsu use quantum-inspired computing to discover improved catalyst for hydrogen production
Researchers from the University of Toronto's Faculty of Applied Science & Engineering and Fujitsu have applied quantum-inspired computing to find the promising, previously unexplored chemical family of Ru-Cr-Mn-Sb-O2 as acidic oxygen evolution reaction catalysts for hydrogen production. Quantum News Briefs summarizes the recent article published in GreenCarCongress.
The best catalyst shows a mass activity eight times higher than state-of-the-art RuO2 and maintains performance for 180 h. A paper on their work appears in the journal Matter.
Senior author wrote, "Scaling up the production of what we call green hydrogen is a priority for researchers around the world because it offers a carbon-free way to store electricity from any source. This work provides proof-of-concept for a new approach to overcoming one of the key remaining challenges, which is the lack of highly active catalyst materials to speed up the critical reactions."
Nearly all commercial hydrogen is produced from natural gas. The process produces carbon dioxide as a byproduct; if the CO2 is vented to the atmosphere, the product is known as grey hydrogen, but if the CO2 is captured and stored, it is called blue hydrogen. Green hydrogen is a carbon-free method that uses an electrolyzer to split water into hydrogen and oxygen gas. The low efficiency of available electrolyzers means that most of the energy in the water-splitting step is wasted as heat, rather than being captured in the hydrogen.
Researchers around the world are striving to find better catalyst materials that can improve this efficiency. Because each potential catalyst material can be made of several different chemical elements, combined in a variety of ways, the number of possible permutations quickly becomes overwhelming.
To find a way through, the team turned to the emerging field of quantum-inspired computing. They made use of the Digital Annealer, a tool that was created as the result of a long-standing collaboration between U of T Engineering and Fujitsu Research. This collaboration has also resulted in the creation of the Fujitsu Co-Creation Research Laboratory at the University of Toronto. Click here to read the article in-entirety.
*****
Castle Shield Holdings, LLC adds post-quantum cryptography (PQC) support to Typhos® communications app for audio/video calls
Castle Shield Holdings, LLC., a leader in Zero Trust and cybersecurity solutions, today announced that its Typhos® Secure Communications mobile solution now supports post-quantum cryptography (PQC) algorithms selected by the National Institute of Standards and Technology (NIST) for audio and video calls. Typhos® is the industry's first end-to-end PQC software-based solution uniquely designed to protect encrypted chat and audio/video communications using quantum-resilient asymmetric algorithms. The Typhos® crypto-agile PQC solution offers companies, organizations, and consumers a secure, comprehensive, and convenient messaging solution that protects privacy against potential threats for today and tomorrow.
Castle Shield initially announced PQC asymmetric encryption support for Typhos® chat messages and attachments. At that time, Typhos® audio/video features used classical Elliptic Curve Diffie-Hellman (ECDH). Typhos® now supports PQC asymmetric encryption for audio/video calls as well. With this update, all Typhos® features are protected with end-to-end PQC encryption.
The Typhos® standard configuration is Kyber1024; however, other Kyber and Dilithium variants are available to enterprise users upon request. Typhos® is currently the most secure messaging and communications app available today. Typhos® is a Software as a Service (SaaS) solution, although companies can host the solution themselves on-premises or via the cloud for additional data privacy. Click here to read complete announcement.
*****
Is Quantum Cybersecurity the next guy's problem?
Denis Mandich is the CTO of Qrypt, a post quantum cryptography company, and founding member of the Quantum Economic Development Consortium authored a recent Forbes article asking "Is Quantum cybersecurity the next guy's problem?"  Quantum News Briefs summarizes below.
He explains that "Many cybersecurity professionals are resistant to committing resources to strategic threats because they are dealing with front-burner crises, continuously hammered by the rest of the C-suite and their boards."
Trite but true, cybersecurity is never done and will always fail on some level. While some decisions are clearly reckless, incompetent and even criminal, the majority are murky compromises, often choosing the lesser of multiple bad options.
Quantum computing is a potential weapon like no other because it impacts the core of all cyber defensive technologies.  The quantum threat must be addressed by quantum technology that leverages today's advanced cyber machinery that didn't exist 50 years ago. The government, through the NIST PQC process, has done its part to provide an upgrade but not a solution.
The quantum threat is existential, not just an impact to the bottom line and insurance paperwork. We have quantum security tools available today, but even those are insufficient against a state-level attack, just like airbags are meaningless against a hellfire missile shot from a predator drone. The good news is, there will be a finite amount of those cyber lethal resources available,
President Biden has given every U.S. federal agency until May 23, 2023, to report their quantum vulnerabilities and submit their remediation plan. This really means every vendor doing business with the government. If a larger encryption-breaking quantum computer is available tomorrow, does your leadership team have one?  Click here to read Denis Mandich's complete article.
*****
LANL announces applications process for Quantum Computing Summer School Fellowship is open
Applications for fellowships to LANL's Quantum Computing Summer School Fellowships are open through January 22, 2023 for upper division undergraduate students and early graduate students in all scientific disciplines. Quantum News briefs summarizes.
The Quantum Computing Summer School is an immersive 10-week curriculum that includes tutorials from world-leading experts in quantum computation as well as one-on-one mentoring from LANL staff scientists who are conducting cutting-edge quantum computing research. Summer school fellowship recipients will be exposed to the theoretical foundations of quantum computation and will become skilled at programming commercial quantum computers, such as those developed by D-Wave Systems, Rigetti, and IBM. Roughly twenty students (with the precise number determined based on the applicant pool) will be awarded a fellowship from LANL for the summer school. The fellowship amount ranges from $7,500 to $15,500, based on academic rank (junior, senior, 1st year graduate student, etc.).  Click here to read complete details.

*****
Sandra K. Helsel, Ph.D. has been researching and reporting on frontier technologies since 1990.  She has her Ph.D. from the University of Arizona.