Quantum News Briefs December 19: United Electronic Technology AG & TU Dresden starting 6G-Quantum Security project; PONE Biometrics names PQShield partner in launch of next-generation biometric security hardware solution; Toppan researchers find significant difference between quantum & classical learning model construction processes + MORE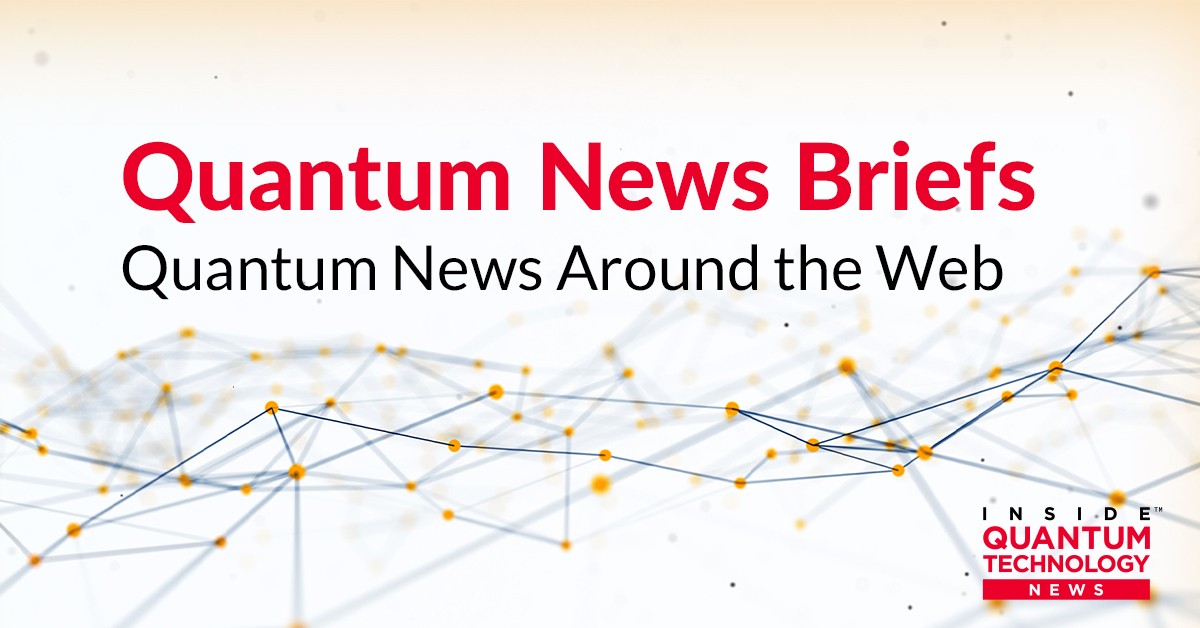 Quantum News Briefs December 19: United Electronic Technology AG & TU Dresden starting 6G-Quantum Security project; PONE Biometrics names PQShield partner in launch of next-generation biometric security hardware solution; Toppan researchers find significant difference between quantum & classical learning model construction processes + MORE

*****
United Electronic Technology AG & TU Dresden starting 6G-Quantum Security project
UET United Electronic Technology AG and its subsidiary albis-elcon, is starting the 6G-Quantum Security (6G-QuaS)" research project with the Technical University (TU) Dresden on the application of quantum technology in the form of quantum communication for secure data transfer. Quantum News Briefs summarizes below.
The "6G-Quantum Security (6G-QuaS)" project aims to develop a hybrid quantum-conventional wired industrial network. Quantum information is to be stored continuously in the phase and amplitude of light, rather than discretely in its polarization as is common in current research. This is expected to lead to significantly lower latency and higher security against attacks without compromising the resilience (resistance) and throughput of the network.
The goal of the "6G-Quantum Security (6G-QuaS)" project is to demonstrate applications for even more secure communication and performance enhancement in industrial networks and to enable the combination of quantum technologies with the existing telecommunications infrastructure. This will demonstrate the advantages of a quantum network with new encryption protocols over previous system designs.
The project is funded by the German Federal Ministry of Education and Research as part of the "Innovation Hub for Quantum Communication" initiative. The project is scheduled to run until 2025. "For us, this research project in cooperation with the Technical University of Dresden is a logical step and investment in our long-term orientation as a system supplier for communication networks with the key elements of sustainability, energy efficiency and network security, and therefore fits perfectly with our strategy and our technological lead," adds Neubauer.
UET United Electronic Technology AG is an international technology supplier and network equipment provider headquartered in Eschborn near Frankfurt, Germany. Click here to read the complete announcement.
*****
PONE Biometrics names PQShield partner in launch of next-generation biometric security hardware solution
Norwegian cyber security company PONE Biometrics has signed an MoU with  PQShield, to deliver future-proof cryptographic security solutions to the market by embedding PQC algorithms to its smart card sized hardware solution, OFFPAD, making the device quantum secure. Quantum News Briefs summarizes below.
The process was initiated with the goal of embedding PQC algorithms in PONE Biometrics' secure hardware, OFFPAD, to make the device quantum secure.
OFFPAD is a new-generation security device that combines biometrics and post-quantum cryptography for strong authentication, and will be offered to military, government entities, financial institutions and banks to further enhance security and protect against future threats from quantum computers. This feature makes OFFPAD fully compliant with the latest cryptographic standards demanded by governments and international defense partners.
PONE Biometrics is a Norwegian-based company, founded in 2017 with the aim to commercialize a Norwegian-patented and innovative personal endpoint security product. PONE Biometrics is a customer driven, research and development, cyber security company, mitigating data breach vulnerabilities with user friendly security keys and services. The product named OFFPAD is a hardware-based architecture solution manufactured in Scandinavia, using a secure element to leverage higher isolation and guarantee security. It provides a fully physically isolated execution environment. We make passwords obsolete and authentication more secure with the OFFPAD, a credit card-sized, biometric, and upgradable device for physical and logical access. Click here to read complete announcement.
*****
Toppan researchers find significant difference between quantum & classical learning model construction processes
Toppan's researchers proposed a method to demonstrate the difference between the learning model construction processes for quantum and classical machine learning. When the method was applied to manufacturing operations at Toppan's plants, a significant difference was seen between the quantum and classical learning model construction processes. This method can potentially be used to make prompt decisions on which machine learning method, classical or quantum, is most suitable for specific individual datasets.
"Toppan aims to contribute to the next-generation digital society by exploring the possibilities of quantum machine learning," said Takashi Ito, Executive Officer of Toppan's Digital Innovation Division. "Going forward, we will verify the findings of this research by testing with real data and look to expand the application of quantum machine learning beyond manufacturing to processes such as quality checks, shipping inspections, and logistics."
A related paper was published on December 15 in EPJ Quantum Technology,1 an online journal from Springer Nature. Title: Performance of quantum kernel on initial learning process
Authors: Takao Tomono and Satoko Natsubori
Featured in: EPJ Quantum Technology (Published by Springer Nature)
The paper can be viewed at https://rdcu.be/c1DRF
Established in Tokyo in 1900, Toppan is a leading and diversified global provider committed to delivering sustainable, integrated solutions in fields including printing, communications, security, packaging, décor materials, electronics, and digital transformation. Toppan's global team of more than 50,000 employees offers optimal solutions enabled by industry-leading expertise and technologies to address the diverse challenges of every business sector and society and contribute to the achievement of shared sustainability.
*****
Arqit announces technology update; no longer needs to incorporate satellites into core QuantumCloud™ offering
Arqit Quantum Inc. announced on December 14 a significant change in its technology strategy, resulting from innovation which is expected to have a positive impact on the company's future financial position and results. Quantum News Briefs summarizes the announcement.
Arqit's technology involves the supply of a lightweight software agent to end point customer devices or cloud machines for the purpose of making encryption keys which are zero trust and computationally secure.
Arqit invented a quantum satellite protocol to facilitate delivery of replicated entropy, which it believes is unique in achieving delivery with quantum safety. Pending the launch of its satellites, Arqit has been using a terrestrial method of delivering replicated entropy using a set of classical digital hardware and software elements (i.e., not quantum communications), and following further innovation this year, has recently deployed an advanced version of terrestrial delivery. The security of end point encryption keys is as strong with the terrestrial method as it is with the satellite method. Arqit has therefore concluded that it no longer needs to incorporate satellites or the associated ground infrastructure into its core QuantumCloud™ offering in order to deliver a quantum safe product.
Arqit intends to sell (in whole or in part as a capacity sharing arrangement) its quantum satellite currently under construction to a customer with such ultra-secure requirements. Following the sale of its satellite currently under construction, Arqit will build no further satellite infrastructure and intends to licence its quantum satellite IP to subsequent customers with similar requirements, which will enable those customers to build their own systems.
Arqit intends to continue to perform under its satellite construction contract with the European Space Agency and recognise the related project revenues generated thereunder.
Arqit supplies a unique quantum safe encryption Platform-as-a-Service. Arqit's product, QuantumCloud™, enables any device to download a lightweight software agent, which can create encryption keys in partnership with any number of other devices. The keys are computationally secure, optionally one-time use and zero trust. QuantumCloud™ can create limitless volumes of keys in limitless group sizes and can regulate the secure entrance and exit of a device in a group.  Click here to read complete announcement.
*****
Sandra K. Helsel, Ph.D. has been researching and reporting on frontier technologies since 1990.  She has her Ph.D. from the University of Arizona.